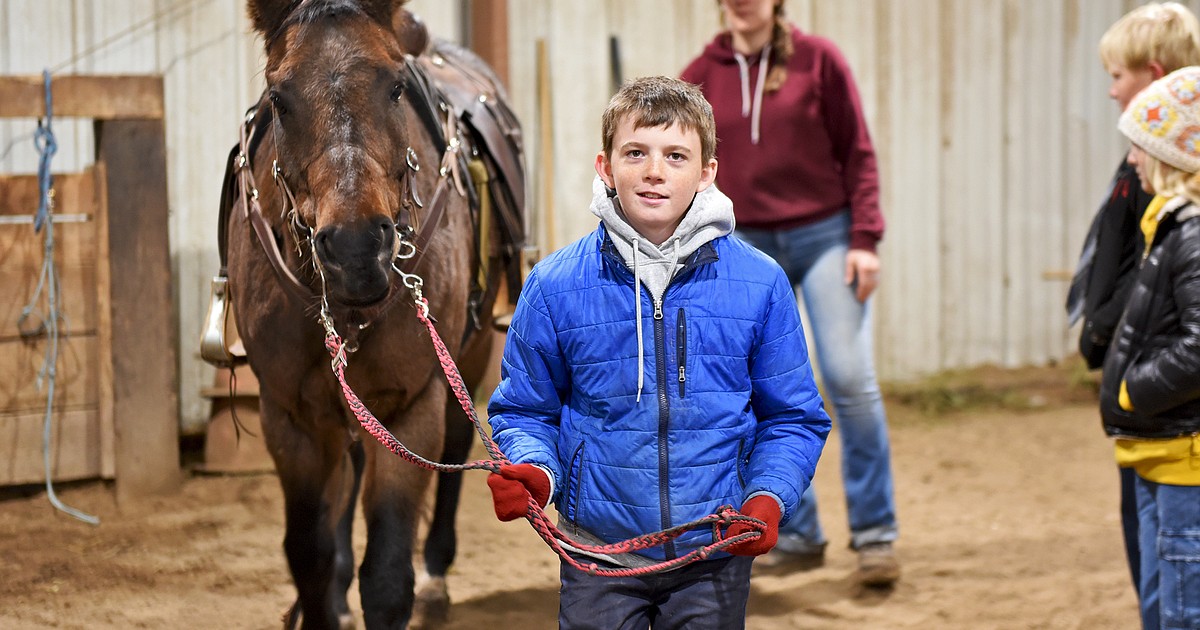 Whitefish Christian Academy Riding Class Supports School's Holistic Approach to Education
Building a relationship with a horse takes patience and kindness as well as a specific set of skills, and students at Whitefish Christian Academy are learning it straight away this school year.
Students in grades six to eight participate in horseback riding lessons at Lost Creek Ranch in Kalispell and expect to continue visiting the ranch every month as part of a new program. Students begin by learning the basics of horse presence, including grooming, feeding, harnessing, and necessary supplies. Then they work to further develop these skills in the next class as they progress to lead the horses around the arena and eventually start riding.
This step-by-step approach where students learn skills that build on each other throughout the year, even during the cold winter months, was carefully designed by school administrators to teach the real horse riding.
"The idea behind the program was not only to teach students to ride, but also to take care of the horse, to learn more about the horses themselves and thus to have a holistic program," says Burton Gildersleeve. , WCA sports director. and marketing. "One that is not just about riding, but about the relationship with the horse and cultivating that relationship over time."
Gildersleeve added that the new riding curriculum, which is now part of the physical education curriculum, aligns with the academy's approach to education.
"We strongly believe that we are teaching students here in mind, body and soul – it is not just about building skills and knowledge, but also about building character."
Additionally, the academy was interested in forming the new curriculum, as horseback riding is deeply rooted in Montana history and culture. As part of nature studies and learning about physical education, students will hopefully have a better understanding and appreciation of where they live.
"We're in Montana and part of Montana's history is very much about horseback riding," Gildersleeve said. "As a school, we seek to connect students with the place they live … both with the history and what makes Montana so beautiful now."
Lost Creek Ranch owner and instructor Chanel Olson helped the academy shape the riding program. Olson and the academy's vision for the class were consistent with each other as they share a similar value in a holistic philosophy regarding horses and education.
"I really like the way Burton came in and presented it, explained their school and their philosophy," Olson said. "It was really in keeping with how I also feel with my horses and what I want to teach."
Olson has been around horses all his life and has been teaching horseback riding for over 20 years. She emphasizes good riding practices and treats horses with respect and love. She says building a connection with a horse on the ground results in first under the saddle. Olson's passion for teaching lies in seeing the full picture of teaching young children who later own their own horses.
"For some people it's just an experience… but what really motivates me is really wanting to learn and be with horses, and that's what motivates me," she said. .
While teaching students, Olson takes the time to connect with them and understand where they are coming from. She is patient and her desire to teach the correct way to interact with horses shines through when she shows how to care for animals.
"We agreed in terms of the philosophy and goals of the program," Gildersleeve said of Olson. "We want students to not just ride horses, but to love horses."
"She is truly a talented teacher and very good with children," he added.
Although each student voluntarily participates in the program, it was not all smooth sailing during the first couple sessions.
Gildersleeve said some kids are afraid of horses, some are happy to ride and some fall somewhere in between. But no matter how they felt on day one, they all progressed over time in the arena.
Going forward, the academy aims to make the riding class a permanent part of its curriculum and something that students can continue to build on not only throughout a school year, but also as they progress from the sixth year to graduation from the academy in the eighth year. .