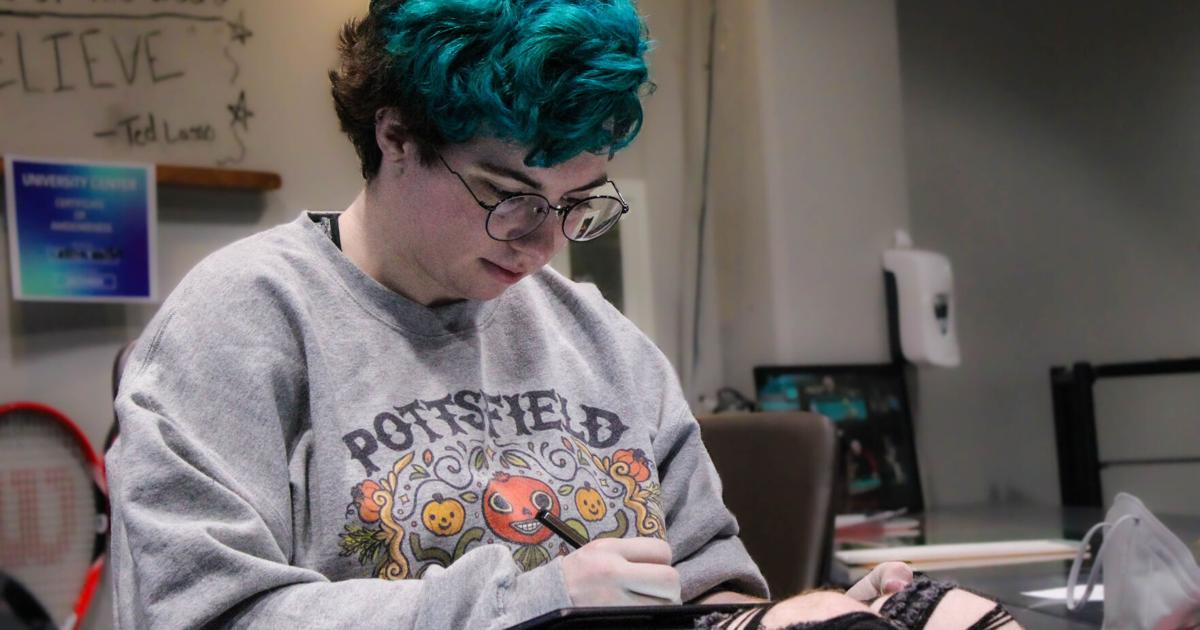 UM Vault Artist of the Month for March | Arts + Culture
The light tapping of a stylus overhears Halsey's "Sad" playing on a loop as Laurence Guinard draws, draws again, erases things, then draws more. Finally, once he is happy with his design, he begins to draw, modifying it further along the way. Most of his art takes him at least 18 hours.
Guinard is the UM Vault's Artist of the Month for March and a student at UM studying media arts. The UM Vault is a small gift shop in UC with a collection of local art, odd items, and a copy center. This month, Guinard's art will be sold and presented.
Guinard has been drawing for as long as he can remember. His passion started with doodling on homework in elementary school, progressing from pencil and paper to digital drawings. This is the first time that Guinard has sold his art in a shop, but he has made orders for people from here and elsewhere.
"I just appreciate that, all the time I was growing up I didn't have a way of verbalizing how I felt about things or being able to look at something and say, 'Hey, that's me'" , said Guinard. "So I started doodling and drawing and in many ways I was able to express everything I felt in art. It became a hobby as well as a way of coping."
Guinard grew up in a conservative Christian town in northwest Montana. Guinard is queer and struggled with her identity growing up. While enrolled in college, he began to explore who he was and faced a lot of hate in his community. During this time, Guinard began expressing her emotions through drawing as a way of coping.
"Religion only made me sad," he said. "So I'm gonna take it and use it for my own thing. I really like the idea of ​​taking something that's been hurtful and being like, 'Hey, I'm really gonna use it and you can't do something about it.'"
Guinard has also struggled with ADHD since childhood. He would become hyper-fixated on a hobby but quickly burn out after months or weeks. The only thing that never died out was his passion for art.
"I like doing it [art] because it also gave me something to do with my hands. I was a very restless child who became a very restless adult," Guinard said. "I find it hard to concentrate on things. I get really nervous and all that. So generally if I have something to work on it makes it easier for me to focus.
Now that Guinard is pursuing a career in art, he hopes to one day be able to live out his undergraduate fantasy of creating a cartoon or comic book. Since middle school, he's been working on a plot and art for his dream story about a family living in a world full of demons.
But, even if his dream story doesn't come to fruition, he plans to work as a video game designer for a strategy RPG game. Currently, he works for a childcare company and the UM Gameroom and hopes to do more artistic jobs in the future.
"I want to be able to make a living doing something I love," Guinard said. "I don't want to do nine-to-five for the rest of my life, because I don't like it. To do nine-to-five and go home, I'm exhausted and I can't draw and it makes me sad."
Guinard's art is available for purchase at the UM Vault, located on the first floor of the University Center. Any student can apply to be the Vault Artist of the Month by completing an application and speaking with Sam Milyko, the Vault Director.