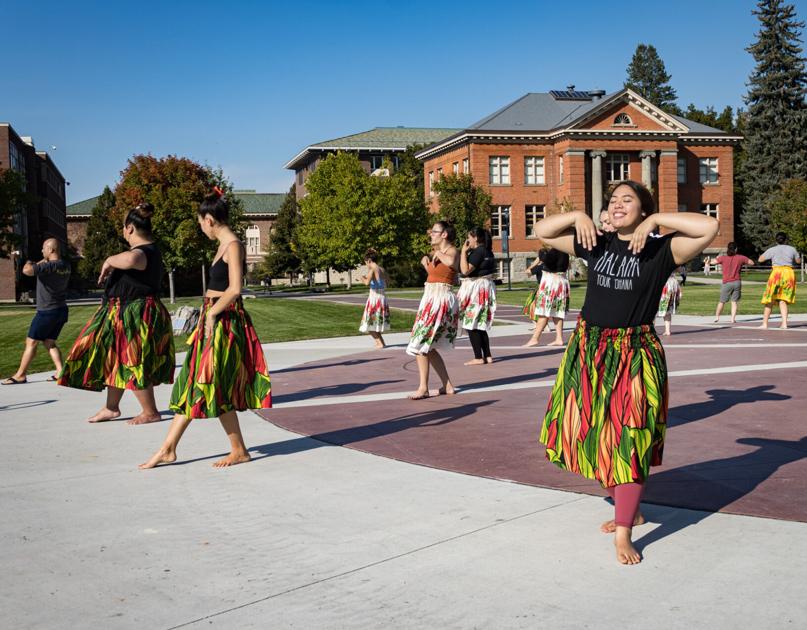 UM Pacific Islanders Club deals with ownership amid the celebration of their culture | New
In the Branch Center kitchen, sit two bags of Hawaiian rock salt. In the freezer there are i leaves. In the cupboards are boxes of haupia – a kind of coconut pudding – and mango candy. All of these products were shipped from Hawaii.
The Pacific Islanders Club uses these ingredients in regular potlucks. For the most part, they cannot be purchased in Montana. Authentic Hawaiian cuisine uses ingredients sourced from 3,800 miles away.
And for club members, their food was improperly appropriated by Campus Dining.
On September 16, the Pacific Islanders Club Instagram posted a story calling on UM Dining to perpetuate cultural materialism. There were three main grievances.
The first was Big Sky Burgers' Huli Huli Chicken Sandwich, which consisted of fried chicken, pineapple coleslaw and barbecue sauce on a brioche bun. Real Huli Huli chicken is roasted over kiawe wood, and it's not fried, it's rotisserie. It's in the name – "huli" means "to turn".
"You know it's Huli Huli chicken because you can smell it from the next town," said student Ka'aumoana Ahina, co-founder and president of the Pacific Islanders Club and originally from Oahu. "The flavor is the flavor because of the way it was prepared."
The second issue was the "Hawaiian Luau Salad" served at the Food Zoo. The story emphasizes that it should be "Lū'au", along with the Hawaiians kahakō and 'okina.
"Why was he called that?" Ka'aumoana asked. "Do they know and can they refer to what a lū'au is?" "
Lū'aus can serve as a celebration, gathering, mourning, and more. Ka'aumoana asked why Campus Dining uses this name for the salad, which is just a fruit salad with pineapple and quinoa.
"It seems pineapples are always associated with something they call Hawaiian," Ka'aumoana said. "That's what we teach people here on our campus – throw a pineapple on it and call it good. "
Pineapples are not native to Hawaii. The same Dole family who made a Hawaiian pineapple empire also had a member who helped stage a coup against Queen Liliuokalani, resulting in the US takeover of Hawaii.
"I never put pineapple on my salad," Ka'aumoana said.
The last slide condemned UM Dining's decision to sell boba tea at Biz Buzz Cafe. It featured an image of the text notification informing students of the availability of boba tea, which involved a photo of a student holding boba tea. The student's face is not clearly visible. The story added the text: "A dirty finger nailed 'CaucASIAN' culturally dehumanizing the origin of this Taiwanese staple."
Ka'aumoana explained that the club were frustrated with UM Dining's decision to sell their own boba tea when they knew Pearl Boba, an Asian boba store, would open on September 27. The Pacific Islanders Club felt that UM Dining was capitalizing on demand for boba and taking business from Pearl Boba.
According to Trail Bundy, head of marketing and communications for UM Dining, the decision to sell Boba to Biz Buzz was made at the end of the 2021 spring semester, before UM Dining knew Pearl Boba would be coming to UC. UM Dining does a lot of trend forecasting and wanted to provide the popular drink to students. By the time Pearl Boba arrived at UC, Biz Buzz had a year of inventory to sell Boba. Because Pearl Boba doesn't sell food, it's separate from meals on campus.
In response to Instagram's story, Ka'aumoana said the student featured in Boba's text filed a Title IX complaint against the club. UM's Title IX office has requested an apology and that the club receive advocacy training.
"It's overwhelming. It's a stab in the heart, "Ka'aumoana said.
Ka'aumoana said the club had called for Title IX not to interfere with its free speech rights and efforts to ensure student success.
Bundy said that as soon as they were made aware of the issue on September 20, UM Dining removed all references to Hawai'i from the names of dishes, listing them by ingredients instead. The Huli Huli Sandwich was a weekly special and had already ended by the time it was brought to the attention of UM Dining. Bundy said that "Huli Huli" was a reference to the sauce used. Pineapple Quinoa Salad is now called "Tropical Salad".
According to Bundy, the culinary team is responsible for the weekly specials. There are no Pacific Islanders on this team. Most of Food Zoo's recipes are years old, so Bundy couldn't guess where the decision to name the Pineapple Quinoa Salad "Hawaiian Luau Salad" came from or how much research had been done beforehand. . The dishes served at the Food Zoo are based on the ingredients available and the culinary expertise of the staff at the time.
Pacific Islanders Club Treasurer Isaac La'a said he confronted the Big Sky Burgers duty manager when he saw the 'Huli Huli' sandwich, asked him who it was and theirs. had advised to remove it from the menu. The manager said they would talk to their own manager about it.
"It was definitely an educational opportunity for everyone involved in this," Bundy said.
Ka'aumoana said the issue has hurt students and distracted from the club's goal of providing sacred space and fostering student achievement.
"Their intention to do so is ignorance, and their impact is damaging," Ka'aumoana said. "These experiences keep us from being successful students."
At a University of Montana student associate meeting on September 22, club members Elani Borhegyi and La'a both spoke about the issue, sharing the club's intentions and urging UM Dining to do better. La'a is an ASUM Senator.
Bundy said UM Dining is working with the Office of Inclusive Excellence rather than contacting the club directly. UM Dining hopes to work with the Global Engagement Office and students to provide accurate cultural foods on campus.
"These concerns had not been reported to our staff prior to this," Bundy said. "It only took a group of qualified people to bring it to our attention. "
He hopes UM Dining can one day serve Hawaiian food with the help of the Pacific Island community.
"We want to work a lot more closely with them in the future," Bundy said.
"You don't have to consult with us before posting things, but do your research," Ka'aumoana said.
UM's Pacific Islanders Club is a place of community. It was founded five years ago to provide a sacred space to perpetuate the culture of the Pacific Islands.
"We also provide cultural learning and engagement for students," Ka'aumoana said. "Communities play an important role in the success of our students. When students are away from their families, their places of origin, they need places like this to be successful.
The club aims to provide 'ohana, or family.
"The greatest joy is being able to come together and build a community," Ka'aumoana said. "The greatest joy for me is to be able to see other Pacific Islanders coming here because they feel loved, appreciated and respected."
Potlucks don't just feature Pacific Island food. In addition to poi, poke, chicken shoyu, butter mochi, and kalua pig with cabbage, the students provided vegan kimchi and goulash. The poi is made with island ingredients, such as tarot starch, and the food is seasoned with Hawaiian salt harvested on the island of Kaua'i. The club also orders Hawai'i mango jelly candies.
"Nobody thinks about these things," Ka'aumoana said. "It comes down to the actual ingredients in the mix."
The club also orders Hawai'i lā'i leaves. These leaves are used to wrap seasoned pork and serve as dishes for coconut pudding, but they have many other purposes. For example, dried lā'i leaves are used to make necklaces and ropes.
"I love attending potlucks and sharing the culture," said Borhegyi, who joined the club two years ago. Borhegyi is not a Pacific Islander, but has found community in the club after being drafted at Welcome Feast.
Borhegyi brought goulash to the potluck to share his Eastern European culture. They said they saw the "Hawaiian Luau Salad" in their first year and wished they had reacted sooner.
"I was awakened to the number of examples of cultural appropriation that there are at UM Dining," Borhegyi said. "Even if you don't know it, you have a responsibility to serve authentic and respectful food where it comes from. "
In addition to meetings and potlucks, the Pacific Islanders Club hosts hula workouts in the UC Ballroom every Sunday from 3 p.m. to 5 p.m. These workouts don't just appeal to Pacific Islanders.
On September 26, around 30 people trained to perform at the Oval for Indigenous Peoples Day on October 11. Ka'aumoana led the practice. In the hula, "huli" is a type of trick.
"With the Pacific Islanders Club, you feel like you are part of 'ohana,' Borhegyi said.
They particularly felt this sense of community when practicing the hula. Borhegyi said they started out on the hula badly, but improved a lot.
"I'm not a religious person, but the hula is like, in a metaphorical sense, my church," La'a said. "My way of expressing myself to the moon, the stars, the trees, the grass, the Earth."