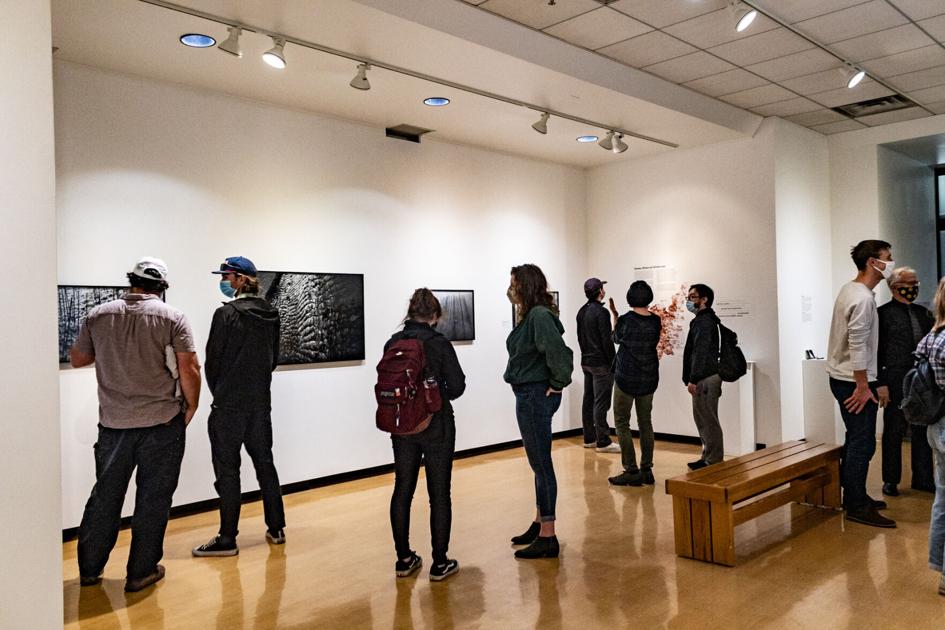 UC photo gallery captures the beauty of destructive fire | Arts + Culture
Taken in the haze of summer smoke, the black-and-white photos presented in the University Centre's gallery do not need color to capture a landscape ravaged by a forest fire. Images of charred tree bark, rivers meandering between fire-ravaged hills, and a burnt tree trunk in a field of wildflowers depict fires as both an agent of destruction and rejuvenation.
"Scorched landscapes are often seen as ugly, destroyed and catastrophic," said Mark Kreider, UM's doctoral student in forestry and conservation science. "But a landscape like the Selway-Bitterroot has had fires for thousands of years. I see it as the portrait of a landscape linked to fire.
Kreider, who grew up on the great plains of Kansas, discovered his love for photography in his freshman year of high school by using an old compact camera to take photos of his backyard. Since then he has brought his love for photography to the field. For two months, Kreider carried a camera through 1 to 3 million acres of rugged Selway-Bitterroot wilderness to take photos of the scorched landscape featured in his UC gallery's new exhibit "Wilderness Fire."
The gallery is in tandem with Kreider's thesis research on how hot, dry versus cool, wet weather influences forest development over several decades.
Kreider said he called the Selway-Bitterroot Wilderness a large "natural laboratory" because the fires are allowed to burn naturally without suppression.
Working with a research team from UM, Kreider studied vegetation, structure, composition and fuel loads. Kreider said he took his photos spontaneously between setting up the camp and some rigorous fieldwork.
His gallery features photos of open landscapes and close-ups of old charred trees. "Morning in the Selway," a photo of the River Selway meandering through barren hills and lush hills of trees, reflects this dichotomy between the landscape, Kreider said. For photos like "Charred Snag and Burnt Trees," Kreider focuses on the patterns left by the fire on the bark of the trees.
Regardless of the lineup, Kreider said he quickly decided he wanted all of his photos to be black and white because they capture both the smoke and the long history of the Selway-Bitterroot wilderness.
"Black and white has a timeless side," Kreider said. "That's why I thought it was appropriate for a place where fires have been around for a long time."
Amanda Barr, the director of the UC gallery, said she was intrigued by the composition of the gallery, especially given its contrast to previous exhibitions presented in UC. She said artists usually have a lot of freedom, but photographers are sometimes limited to what's in front of them.
For "Wilderness Fire," Barr said Kreider works effectively with composition for a land marked by fire.
"It kind of captures the power of the earth," Barr said. "It is the brutality of the burn and the harshness of the landscape that make it magnificent."
Barr also noted how Kreider's photos were taken on land where the Nez Perce and Salish Kootenai peoples have historically used fires to beneficially alter landscapes and food resources. But with the removal of indigenous peoples from their homelands, fire stewardship ended and fire suppression began.
Andrew Larson, professor of forest ecology at UM and advisor to Kreider, said the illusion that fire suppression is the solution is fundamentally flawed.
"You're just deferring the risk," Larson said. "Every fire you manage to put out, you still have fuel in the landscape and you're just kicking the road. "
But Larson made it clear that the fire cannot be ignored. Controlled prescribed burning, said Larson, is essential for reducing hazardous fuel loads near developed areas, restoring natural woodlands and managing landscapes.
Kreider said he hopes to continue to raise awareness about fire suppression and mitigation through his photographs. He said photos are sometimes a better alternative to lengthy research papers.
"It's a fun thing as a scientist," Kreider said. "A lot of times we just collect data and publish it in a newspaper. So I think it's cool to have more accessible ways to share ideas.
"Wilderness Fire" is on display in the UC Gallery from 10 am to 5 pm Monday through Friday until December 10th.