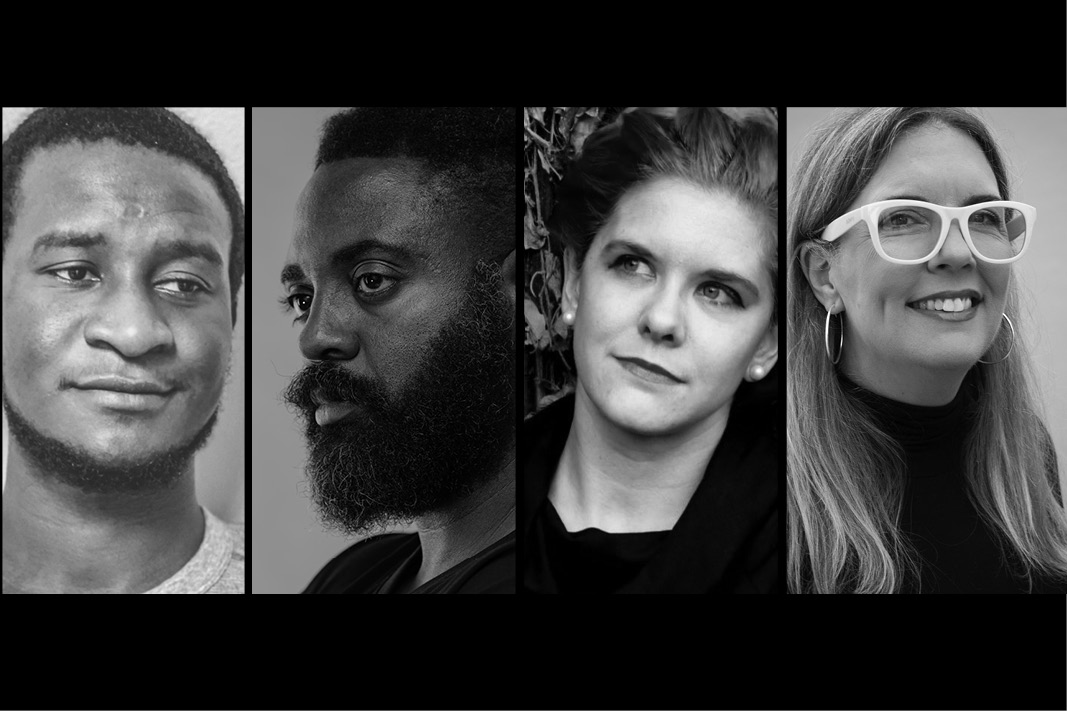 The return of the fall reading series | Faculty of Communication, Fine Arts and Media
The Writer's Workshop Reading Series brings you four renowned writers as part of our Fall 2021 Series!
Visit the Writer's Workshop creative writing program at the School of the Arts HERE and find out how you can start writing your story.
---
Saddiq Dzukogi | Poetry | Wednesday | September 8 | 7:30 p.m.
Criss Library

Saddiq DzukogiYour Crib's collection of poetry, My Qibla (University of Nebraska Press 2021) was named one of Oprah Daily's top 29 poetry collections. His Inside the Flower Room chapbook was selected by Kwame Dawes and Chris Abani for the APBF New Generation African Poets Chapbook Series. His poems have appeared or are to appear in The Cincinnati Review, Gulf Coast, Kenyon Review, Oxford Poetry, Poetry Society of America, Prairie Schooner, and other literary journals and magazines. He was a finalist for the Brunel International African Poetry Prize and a recipient of scholarships and grants from the Nebraska Arts Council, Pen America, the Obsidian Foundation and the University of Nebraska-Lincoln where he is a doctoral student and assistant poetry editor for Prairie . Schooner.
---
Reginald Dwayne Betts | Creative non-fiction | Wednesday | October 6 | 7:30 p.m.
Remote event recorded

Reginald Dwayne Betts is an American poet, memorialist and teacher. He has written three collections of poetry, Bastards of the Reagan Era, Shahid Reads His Own Palm and his latest collection Felon, which questions and challenges our notions of justice.
His memoir, A Question of Freedom: A Memoir of Learning, Survival, and Coming of Age in Prison, tells the story of a young man incarcerated in the worst prisons in the state of Virginia, where solitary confinement, horrible conditions and violence threatened to shatter his humanity. Instead, Betts used the time to transform himself into a poet, scholar, and advocate for reform of the criminal justice system.
Named 2018 Guggenheim Fellow and 2018 NEA Fellow, Betts' writings garnered national attention and earned him a Soros Justice Fellowship, Radcliffe Fellowship, Ruth Lily Fellowship, NAACP Image Award, and New America Fellowship. Betts has been featured in The New York Times, The New Yorker, and The Washington Post, and has been interviewed on NPR's Fresh Air, The Travis Smiley Show, and several other national shows. He holds a BA from the University of Maryland; an MFA from Warren Wilson College, where he was Holden Fellow; and a JD from Yale Law School. He is a doctoral student in law at Yale and, as a Liman Fellow, he spent a year representing clients at New Haven Public Defender's Office.
---
Jaye Viner | fiction | Wednesday | November 3 | 7:30 p.m.
UN Art Gallery in the Weber Fine Arts Building

Jaye Viner lives on what was once the plains of eastern Nebraska with two feline fur bombs and a very tall man. She knows just enough about a wide variety of things to embarrass herself on parties she never attends. She holds an MA in Fine Arts and an MA from the University of Nebraska. His writings have appeared in Drabblecast, The Roanoke Review and Everyday Fiction. Her first novel, Jane of Battery Park, is now available from Red Hen Press. Find her on Twitter @JayeViner or Instagram @Jaye_Viner
---
Kristin burke | Scenarisation | Wednesday | 1st December | 7:30 p.m.
Remote event recorded

Kristin Burke is a Northwestern University-trained screenwriter, director and costume designer. She recently received a grant from the Warner Brothers Emerging Film Directors' Workshop, where she received $ 100,000 to write and direct the short film Urban Myth: Nest, now available on HBOGo.
Burke has written several feature film scripts and has four projects in development to complete. She is also stationed on a short documentary called This is Why We Walk, chronicling the 120 km journey of Marita Growing Thunder, a teenage girl from Montana who fights to raise awareness of the crisis of missing and murdered Indigenous women. Burke has designed costumes for over fifty feature films and television series, including seasons 1 and 2 of Sleepy Hollow 2, the feature films The Conjuring, Insidious, Running Scared, The Cooler and The Slaughter Rule. Additionally, Ms. Burke is an internationally exhibited artist specializing in collage, quilting, and postal art, and had her first solo exhibition in Los Angeles in 2001. Burke also founded the nonprofit association SECOND FAMILIES to help newly arrived refugees in Southern California. Currently working with over 150 families, the organization provides basic non-food items like clothing, personal care items and furniture to families who have arrived in this country with nothing.