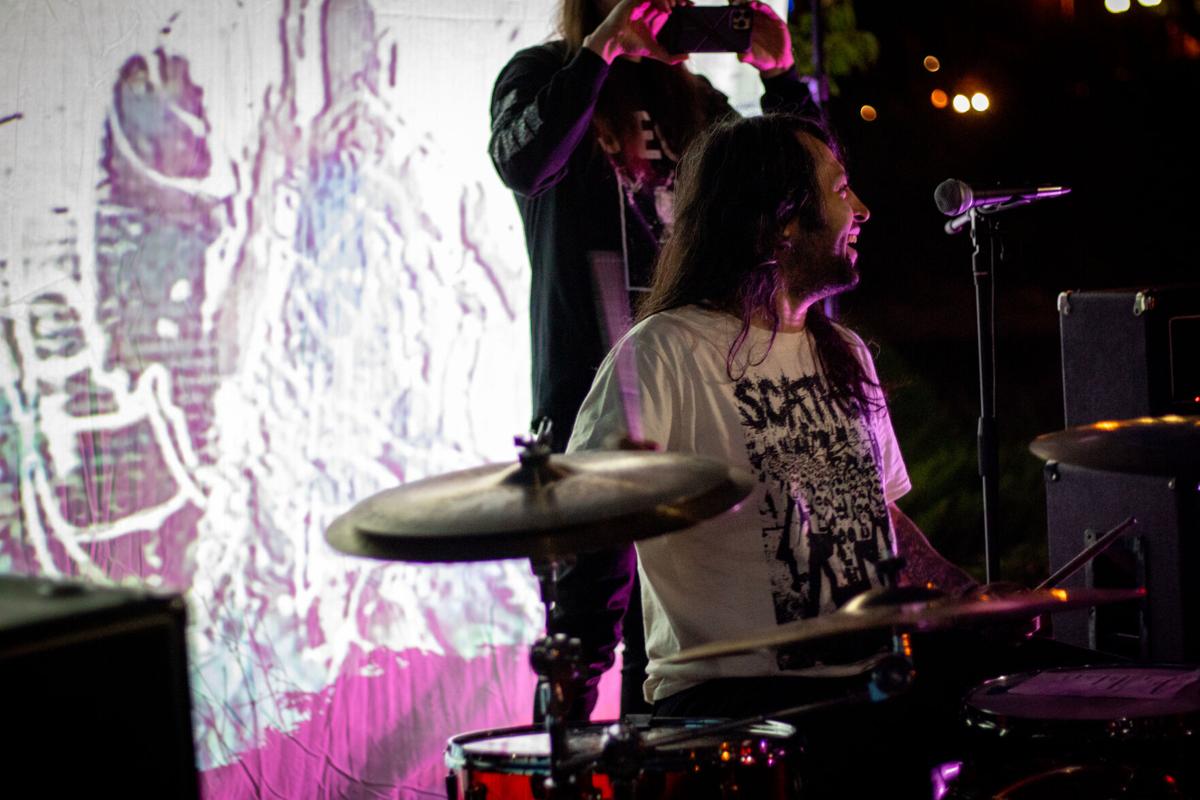 The punk scene is back | Arts + Culture
Last Thursday night, dozens of punks, skateboarders and everyone else attended a punk show at Mobash Skate Park, which featured three different bands and a lot of noise.
The show was put together by local punk and hardcore booking company Dead Eye Productions. It was the first show producer Cameron Smith has booked since March 2020, just before COVID-19 hit.
A skate park might seem like an odd place for a gig, but Smith was confident in the decision to put on the show outside, given the recent spike in COVID-19 cases.
The evening started at 7 p.m. sharp, as the leaflet said. No infamous "punk time" for this show. The opening band, Bozeman-based Geimhreadh, led by Bob Scratchet, strummed the sunset over the Clark Fork River with heavy metal sounds and big guitar tears. Geimhreadh has performed in Missoula before, and Scratchet plans the group to return to town in the near future.
Around 8:15 p.m., the main event took place. Escuela Grind, a popular punk band from Massachusetts, stopped by the skatepark on a trip for their nationwide tour. The three-person group, led by Katerina Economou, only had to play a few chords before the start of the mosh pit. The group performed a relatively short set in front of a projection screen while the crowd was immersed in the very loud music.
The show ended with a local band, Panic Boner, who producer Smith described as "an experimental noise band". Experimental, indeed. The constantly fluctuating number of people who made up the group, including a handful of current and past UM students, have played just about anything you can imagine, from tubas and clarinets to the classical rib instrument. uncooked beef.
"Everyone in the band plays what makes a sound, pretty much," said Isaiah Demantrez, Panic Boner's lead noise maker and UM student. It was the first live show the group had attended, but said they had high hopes for the future.
"We will continue to do what we do with the greatest energy and the greatest possible noise destruction!" Said Demantrez.
By 9:30 p.m., Demantrez's bass guitar was shattered into pieces, the dogs were devouring the remaining ribs, and the show was drawing to a close.
Smith said he was thrilled with the show's success.
"[The show] Honestly, it was the sickest show we've had in a very long time, and the turnout was fantastic, "he said. "All the bands got ripped apart and made me smile all the time. It was so great to see and experience… We had a great show.
If all goes well, this will be the first of many shows this coming semester, in a variety of venues including parks, bars, and even private homes.