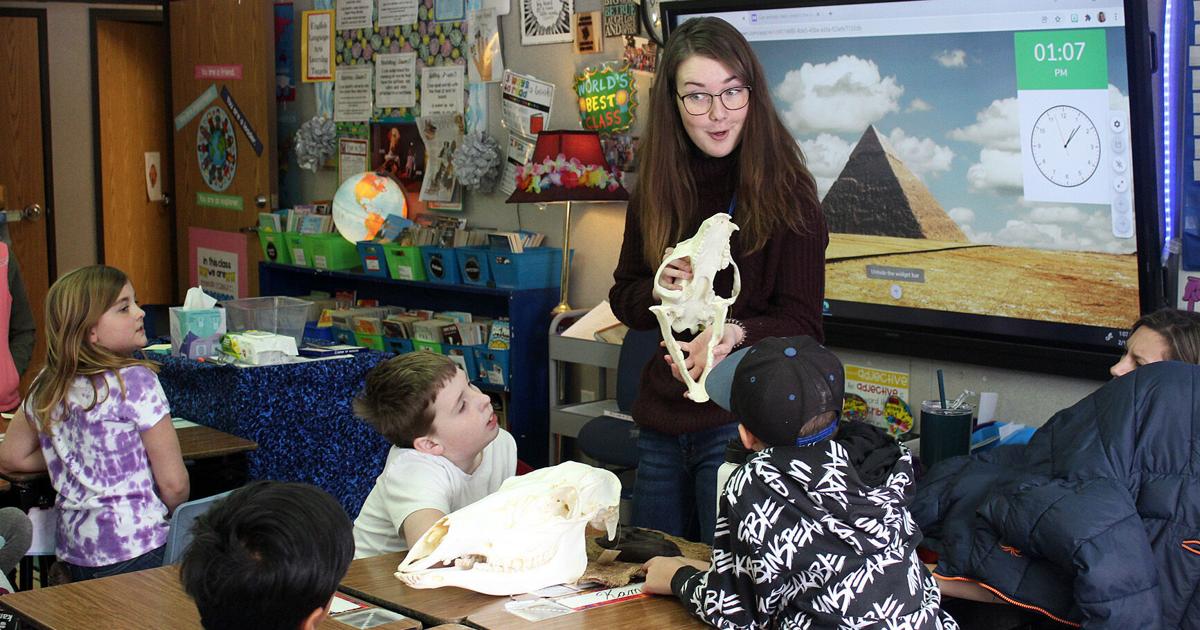 Teller Refuge offers conservation and wildlife education | Local News
Teller Wildlife Refuge offers strong educational programs for students of all grades, with classroom programs, field trips, a lending library of teaching materials, and will soon be offering online conservation courses for 8th graders. in 12th grade.
Nicole Ballard, TWR Education Program Manager, is passionate about sharing her passion for wildlife. She said the "In Our School" program offers fun and engaging educational programs on any subject in conservation or wildlife biology. Topics can range from soil science to aquatic habitat exploration, from mammals and birds to plants, hunting and fishing. Attractive programs meet state core curriculum requirements and are easily arranged.
"I'm offering a small program so they have a fun, interactive way for students to learn about these topics," Ballard said. "Teachers have the option of having me come into their class or have me install something on the shelter for them."
Ballard joined the Teller staff last summer and ran summer youth programs there.
"I did a lot of [classroom presentations] in December and November," Ballard said. "I mainly worked with Corvallis, but I hope to connect with all the schools in the valley. It's for all ages, from K-12 and beyond.
Teller has some new school supplies that Ballard recently purchased with a grant.
"We have skulls, tracks and feces, stream ecology kits, plant tissue and nutrient test kits, soil biology and chemistry kits, binoculars, walking sticks, fly fishing and archery equipment," she said. "I also lend these supplies for free to educators and educational events. They just have to contact me. I'll send them a list, they'll let me know what they want to borrow, and I'll lend it out.
She said the list of lending library items will soon be on Teller's website.
"We cover the whole of science, the area of ​​biology," Ballard said. "It's a fun and interactive way for kids to learn those subjects that they normally have to learn anyway in their classroom. It gives them more of a real-life experience.
On Tuesday, Ballard presented at Corvallis Elementary School in Kristen Bogan's fourth grade class. Ballard talked about the wild animals in the Bitterroot Valley that are grainivores, carnivores, herbivores, insectivores, and omnivores. Under Ballard's guidance, the students discussed which local animal fit into which category.
Ballard's enthusiasm captured the student's attention for the interactive discussion. When she pulled out samples and allowed students to touch fur, skulls, and rubberized caterpillars, the excitement was out of this world.
Students looked at each bleached or plastic skull and touched the teeth to help them determine what kind of food each animal eats. Running their hands through mule deer and white-tailed deer fur, students compared thickness, texture and overall feel. They were amazed at the difference between the size of an elk skull and that of a bat skull.
"How does a brain fit in this little skull," one student asked.
The students were very impressed with the fact that elk have tusks.
Educator Kristin Bogan said Ballard's presentation and having Teller resources in her class was great.
"I thought it was fantastic," Bogan said. "Bringing the presenter in with all the different specimens – the tracks, the skulls and the animal furs. It's not something my class has experienced.
Bogan said she appreciated the information about animals in Bitterroot Valley.
"I'm working on planning a trip to the Teller Refuge so the kids can bond," she said. "It's right here in our backyard, and I was really surprised that so few of my students went there. When she asked who had been there, only three or four raised their hands. I thought, oh my God, we have to go.
Bogan praised Ballard for having a "teacher's voice" and classroom management skills.
"She used the science words that we use in our class," Bogan said. "I would recommend other teachers to use the Teller program. It is well organized, easy to implement and easy to tackle later. »