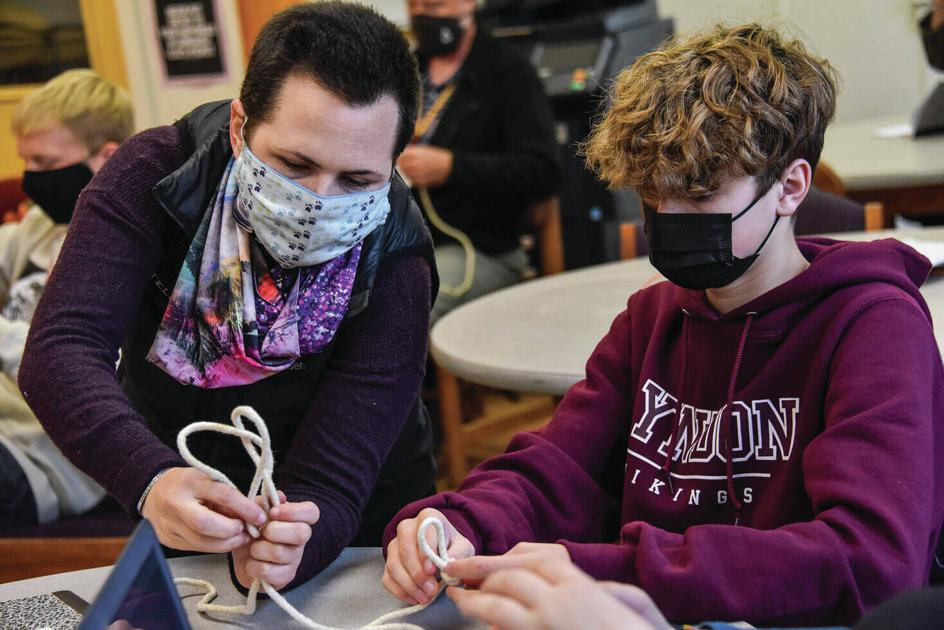 Taking the outdoors to a new level at the Lyndon Institute | Education News
LYNDON CENTER – In 2018, Lyndon Institute launched a new program – the first of its kind in the state. Project Bike Tech was a Career and Technical Education department program designed to enable students to become fully certified bicycle technicians, a viable career path in the outdoor recreation field. In an area that is home to The Kingdom Trails, one of the best mountain bike trail systems in the country, and in a sport that has seen an explosion of interest in recent years, it was a particularly marketable skill.
This year, LI has expanded the program, giving it a new name, expanded scope and a new face in the classroom. Still housed in the CTE department, Outdoor Recreation, taught by Anna Saco, will always offer technical cycling instruction. However, the course will be integrated with a larger classroom that will also introduce a range of new sets of skills and experiences that students can use as stepping stones to new careers or simply as a more meaningful and confident way to engage. in the open air.
The main offering of the program is a full-year, two-block (half-day) course, which leaves plenty of time to explore a range of topics.
"We start with a unit on land use," says Saco. This includes a study of the "Tragedy of the Commons," a classic book of economics that teaches important lessons about land management, modern sustainability, and developing respect for the environment. Respect is reinforced by lessons in the practice of "Leave No Trace," a philosophy focused on minimizing its impact on natural spaces and which has become law on most state and federal public lands.
This study is followed by a sequence of interconnected units. Students learn survival skills, such as building shelters and making fires, as well as learning how to cook outdoors and purify water. This is followed by a unit on trip planning, including developing orientation skills with map building and navigation tools. "We want our students to not only survive, but thrive in the wilderness," says Saco.
Beyond learning skills that enhance personal experiences in nature, Saco says other units will focus on potential career opportunities related to the outdoors. "We hope to explore everything from forest firefighting and search and rescue to trail work and wilderness restoration to game warden careers, even a science unit from snow and avalanche rescue. Along the way, we'll incorporate skills like wilderness first aid, self-care, and good outdoor decision-making.
Teaching and leadership skills will also be built into each unit. "We hope our children can become good stewards of nature and use their knowledge to help and train others," Saco said. As the program grows, she is exploring ways for her students to work with younger students at Thaddeus Stevens School – currently housed next door on the Lyndon Institute campus – and hopes to collaborate with Sterling College in Craftsbury. , near.
Not only is Outdoor Recreation a new program for LI, like its predecessor, Project Bike Tech, but it is the first such CTE program in the state. "Several state industry stakeholders have programs like this, but we are the first certified CTE program in Vermont. "
As for Project Bike Tech, although it is not currently part of the program as this year's students have already completed the program, that will change in the future. In the meantime, other students who want to learn about bicycle repair will have an opportunity this year in one of the other two classes in the program.
Intro to Outdoor Recreation is a one-semester course offered over a 45-minute period of the school's longer lunch block and helps serve as a nutrition class for those who might be interested in taking the full school program. half a day. About half of the course incorporates a substantial section of the original bike tech curriculum, offering students the opportunity to receive their level 1 bike tech certification, a Park Tool Basic Mechanic certificate recognized around the world.
"The rest of the class is a sample of units from the full outdoor recreation course," says Saco. "The hope is that by having a little taste of it all, those who appreciate the experience and see the value of it will be interested in committing to a more in-depth experience next year. "
Although Mike Lowe, Project Bike Tech's first instructor, is now the Lyndon Institute's COO, he still takes the time to help with the bike repair portion of the class. Although bike technology is no longer the main focus, he is happy with the direction of the program, saying: "For me that has always been the end goal. We wanted Project Bike Tech to be part of a much larger program that covers all outdoor activities.
Ecology and Natural Resources is the third course of the program. A full-block course that lasts for one semester, it combines many themes of outdoor recreation with scientific studies. In fact, registered students will receive full science credit on their transcript in addition to their normal CTE credit. The scope of the class includes many elements of a traditional environmental science class, including a study of ecosystems, biomes, food webs, and trophic cascades.
"In the process," says Saco, "students will also learn how all of these impact the recreational use of our natural resources, as well as many practical skills, such as learning to identify tree and plant species. in their environment. Saco hopes to get its students to explore other topics, such as the reintroduction of species like the gray wolf and its impacts on the ecosystem.
Saco brings an impressive CV to the classroom, with an emphasis on hands-on experience in the field. Its roots are in New England. "I grew up doing things outside. I have been a long-time skier. You could say my parents are old ski buffs, "she jokes. His family's connection to the White Mountains of New Hampshire was a particularly important part of his upbringing. The love of the outdoors led her to attend Green Mountain College in Poultney, Vermont, from which she obtained a double major in natural resource management and environmental sciences in 2013, along with a minor in geology.
In the years that followed, Anna did everything from babysitting at Tuckerman's Ravine hut near Mount Washington to ski patrolling various mountains. Her journey took her out west for a time, to Colorado and Montana, where she worked as a backcountry horse guide and in a hatchery, among other jobs. After returning to the Northeast, she worked for Nature Conservancy helping to manage controlled burns in New England and with the Northwoods Stewardship Center in East Charleston. Prior to coming to LI, she recently worked at a school for students with special needs in Essex Junction, Vermont.
Now, as an instructor of the Outdoor Recreation Program, Saco is excited to collect all of her real-world experiences and skills and share them with LI students in the classroom and in the field, both on campus and on local and regional trips where they can apply their knowledge directly in the field as the program grows.
"In the meantime," says Saco, "the program is looking to add members to its advisory board. And, in particular, we are particularly interested in anyone willing to help the program by donating equipment and supplies for our outdoor excursions.
In a time of climate change and concerns about dwindling natural resources and habitats, and a place where enjoying the outdoors and spending time in wild places is so much a part of our local culture and economy, Outdoor Recreation offers LI students a chance to grow both personally and professionally and, more importantly, become not only leaders in the field, but also stewards of one of our most valuable resources.