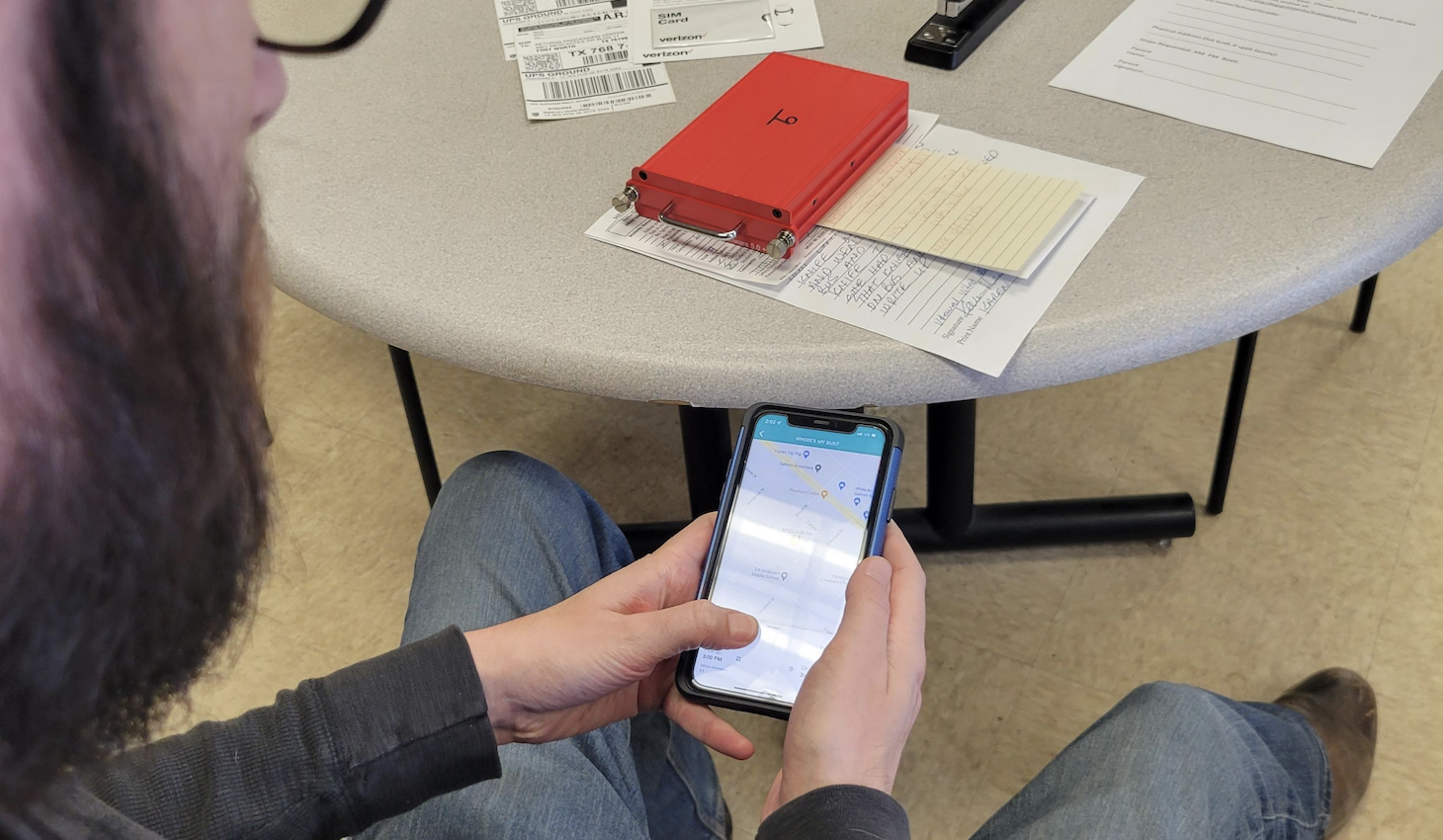 Satisfy Appetites – School Transport News
When Helena Public Schools first piloted its school bus locator app three years ago, Tom Cohn quickly realized that the success of the project wouldn't be based on the efficiency of the technology alone.
"Twenty-five percent of parents used the app right off the bat," recalled Cohn, who is retiring in June after serving as the Montana school district's transportation director for more than two decades. "We wanted all parents to use it. We thought it was a really good deal…parents will eat this.
But they didn't. Why the disconnection?
The Department of Transportation sent out a survey which found that all but 10 parents had smartphones, so that couldn't be the culprit. What Cohn and his team quickly learned was that simply having an app and advertising it is different than demonstrating it and proactively soliciting downloads, even offering parents the ability to see their kids' bus locations in real time, which seems to be all the rage.
"If you don't accompany them to the water, they don't know if it's working well," he added.
Since then, and despite COVID-19, Helena Public Schools has achieved nearly 100% utilization. Ensuring the technology is reliable has been important, but even more vital has been raising awareness and educating the community about the benefits of the app. When parents downloaded the app, they started using it.
"We have 99% of our parents [2,263 registered users] download the app. Now, do 99% use it every day at most? Probably not. But I will tell you that we have an exceptionally high rate," Cohn explained.
---
Related: Bus tracking apps should anticipate parents' needs
Related: Contact tracing on the bus is still incredibly important
Related: Georgia School District implements student tracking app
---
Last summer, parents were required for the first time to download Edulog's Parent Portal app as a prerequisite for enrolling their children in the school bus service. And for those 10 families who have "dumb" phones, they still had to come into the office and fill out the required forms, Cohn added.
Meanwhile, community schools in Cedar Rapids, Iowa are in their second year of using Transfinder's Stopfinder app. Scott Wing, district transportation manager, echoed Cohn saying that parents need to know the technology exists and then download it to their devices.
"We took a multi-pronged approach to let parents know the product even exists," he noted. "Schools are the point of contact with families, so we really educated the schools. 'Hey, encourage the use of Stopfinder. Here are some brochures, here are materials you can hand out when they sign up for the bus. Make sure they download the app and activate it.' We sent emails through our student information systems and encouraged people to register that way.
It's still a work in progress for Wing and his team, as 31.5% of students and families were using Stopfinder as of the date of this report. Complicating the issue is that, like many school districts across the country, Cedar Rapids serves a large number of families who speak a language other than English at home. Wing said the app supports three different languages ​​to help drive breakthroughs.
"Communication is key," Wing said. "You almost have to have a conversation with them and convince them to use it. This was one of the biggest hurdles for us.
But he added that parents who use the app love it.
Get Technical
Keeping parents loving apps is another matter. Applications, any technology, are only really as good as the data they provide. For starters, student transporters need to ensure that the route information that feeds bus locations and arrival times is accurate. Both Cohn and Wing said their staff optimized their routing beforehand and worked with their vendors to ensure the data was clean. This includes ensuring that bus stop changes or new students are updated instantly in the system.
Helena Public Schools is working with Edulog to integrate routing software into the company's parent portal. Edulog provides a "Lite" version, which simply shows the location of the bus. Helena Public Schools uses "Premium" to allow parents to view the bus on the map as well as see bus stops and arrival times, set geofields to create alerts when the bus is approaching and track students in and out of the bus.
Similarly, Cedar Rapids' Stopfinder app shows the bus on the map and the location of the stop. Wing said parents or guardians can also set an alert when the bus enters a certain geographic field to trigger a notification that it will soon arrive at the stop. Cedar Rapids also has the ability to track students through Zonar, but the ability is not yet enabled.
"All [school] building operates as its own entity," Wing explained. "To provide the RFID card to the 4,500 student cyclists, we need 31 buildings to print the cards and maintain them. It's a logistical challenge.
Parents are also quick to let districts or bus companies know when the app isn't working as it should. This makes resolving bugs with application vendors upfront vitally important, Cohn advised. But after successful testing, he added that human error is often the culprit, such as when a substitute bus driver forgets to log into the tablet to activate GPS data that shows the bus is traveling on the road.
"We have to be vigilant every day to make sure the software is working to avoid phone calls from parents, and also if the app is not functional, parents will stop using it. At the beginning, it was necessary to do not hard work," he said, adding that Edulog representatives were working side-by-side with transport staff to monitor bus routes in real time and rectify any issues.
"When you're integrating new technology like this, you really need the developers to help you get started. I really believe it," Cohn said.
Wing shared that his app had its share of bugs that also needed fixing. But the Transfinder team turned out to be excellent partners. "They worked on it and made it work," he added. From there, the success of school bus apps comes down to frequent communication with parents and training them.
"What we needed to do was go over all the stuff with the parents, videos on the website to learn how to use the app, go over with the parents on the phone," Cohn said. "If you don't understand the technology, it's frustrating and parents won't use it."
Editor's Note: As reprinted in the April 2022 issue of School Transportation News.
---
Related: District of Tennessee uses AI technology to improve fleet efficiency
Related: (STN Podcast E94): Training, Technology and Teamwork: Pennsylvania District Ready to Start in 2022
Related: Return on tech investment isn't just monetary, advises Session