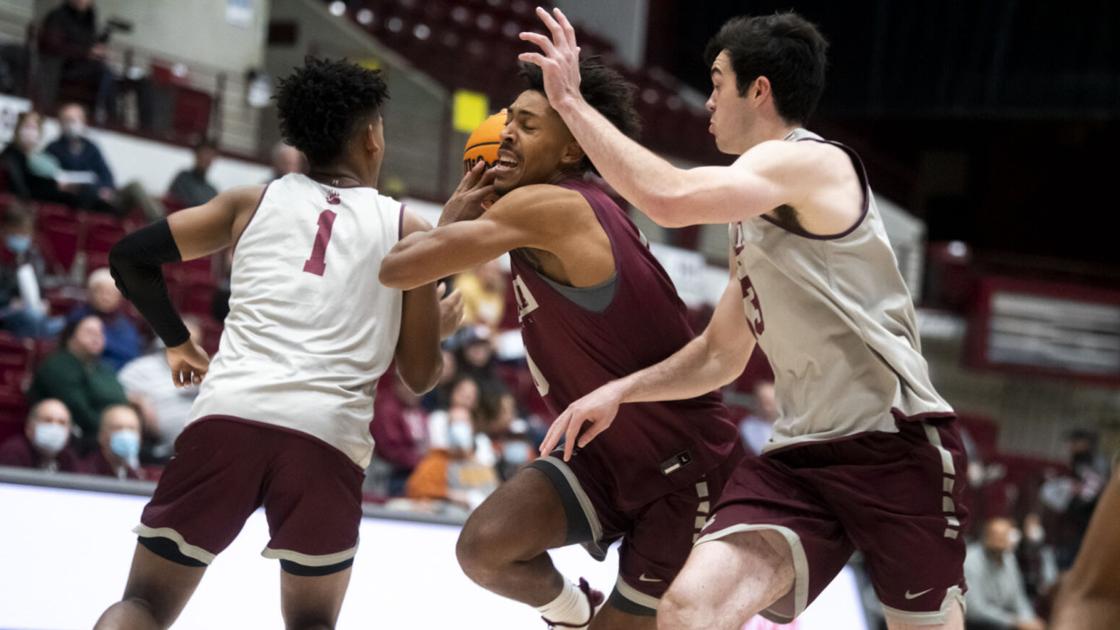 Notebook: Montana Men's Hoops Host Media Day Maroon-Silver Scrum As Season Approaches | UM Grizzly
MISSOULA – Among the many topics that Montana men's basketball coach Travis DeCuire touched on at his pre-season press conference on Wednesday, the youth and subsequent growth of his team was among the most notable.
Playing close games with underclassmen – or for the Griz last season, freshmen – on the pitch isn't easy. Of course, wins will come from talent, but so will tight losses from inexperience.
Montana's most used lineup last season, according to data from Kenpom.com, included three freshmen (Brandon Whitney, Robby Beasley, Josh Bannan), a sophomore (Kyle Owens) and a junior (Mack Anderson). As you scroll through the lineup data, that youthful theme holds true for a Griz team that finished 15-13 with a loss to future champion Eastern Washington in the Big Tournament semi-finals. Sky last March.
Now, a season later and a season older, DeCuire is hoping to see the growth of players who gained a lot of experience early in their college careers.
"I think our conference has talent this year. It's as old as ever, obviously, with the COVID expansion, so it's going to be an interesting year with us putting such a young group of guys on the pitch competing against a lot of older teams, "he said. he said Wednesday. "We hope we will find ourselves in the mix on the home stretch. "
This year's roster includes four freshmen, four sophomores, four juniors plus a fifth junior redshirt and three seniors, including a fifth year senior. Still relatively young, but not so much considering the Grizzlies are bringing in 85.7% of their total score from last season and 86.6% of their total minutes played.
It's about maturing for this group now.
DeCuire compared the current roster to the growth of the last Griz team to compete in the NCAA tournament, which has made two consecutive trips to the Big Dance. The team, led by former stars Ahmaad Rorie, Michael Oguine and Sayeed Pridgett, were 16-16 the year before the first of two tournament appearances.
"That's the question for us, can this group mature faster than the previous group," he said. "If so, it could be a fun year – I think it will be a fun year regardless."
Near normal
Le Griz, and in particular Bannan, experienced a change of pace this offseason which had been absent since the 2019-20 season: An almost normal offseason.
Pandemic restrictions were slowly lifted and players were finally able to work one-on-one with their coaches and teammates. Plus, they could spend more time together off the pitch without major restrictions.
This has been particularly beneficial for Bannan, who, as a native of Australia, only arrived in Missoula on August 22 last season for his first season of college basketball. The pandemic and subsequent travel restrictions caused the delay, which forced the Aussie forward to miss his first offseason with the Griz, wasting precious time learning the program and the varsity game.
He lost what would have been his first real offseason. Growing up, it was basketball all year round, all the time, with no real stoppage like it does with a normal college basketball schedule.
"It was perfect, it was exactly what I needed," Bannan said on team media day Wednesday. "I arrived quite late last year before the season. Just arriving here on an Australian visa was quite difficult. So in the offseason, having the chance to work with the coaches individually and as a team, I felt like it really helped me. "
DeCuire spoke about the same, applying it to more than one team, among other topics on Wednesday.
"You don't know what you've got until you lose it sometimes, and that's a big part of our program – our player development," DeCuire said. "The championships are won from April to August and if you don't put the time and energy into becoming a better basketball team during those months, it's just really hard to put a good product on the floor and we didn't have that last season. It was the first time in my experience as a college basketball coach that I didn't have that. "
Silver Squeaks by Maroon
Josh Vazquez led all scorers in the annual Maroon-Silver scrum, which Silver narrowly won 44-43.
It was the first time since the end of Season 20 that the Griz had the chance to perform in front of their own fans in the Dahlberg Arena.
"It looks like the wait has been long," DeCuire said earlier today before the scrum. "It's been so long since we've had fans, at least at home, that I almost feel like we haven't had a season in two years. So it's been a long wait.
Vazquez scored 18 on a 7-for-10 shot, hitting four of five deep, including a buzzer beater at the end of the scrum. Mack Anderson scored 10 and picked up 10 rebounds and Bannan scored nine points in the first half for Silver and in the second for Maroon scored five. First-year winger Lonnell Martin Jr., who came from the junior college ranks, had nine points with his three buckets coming in from afar.
Scott Blakney, a great transfer graduate from Idaho, and forward Derrick Carter-Hollinger did not play in the fray.