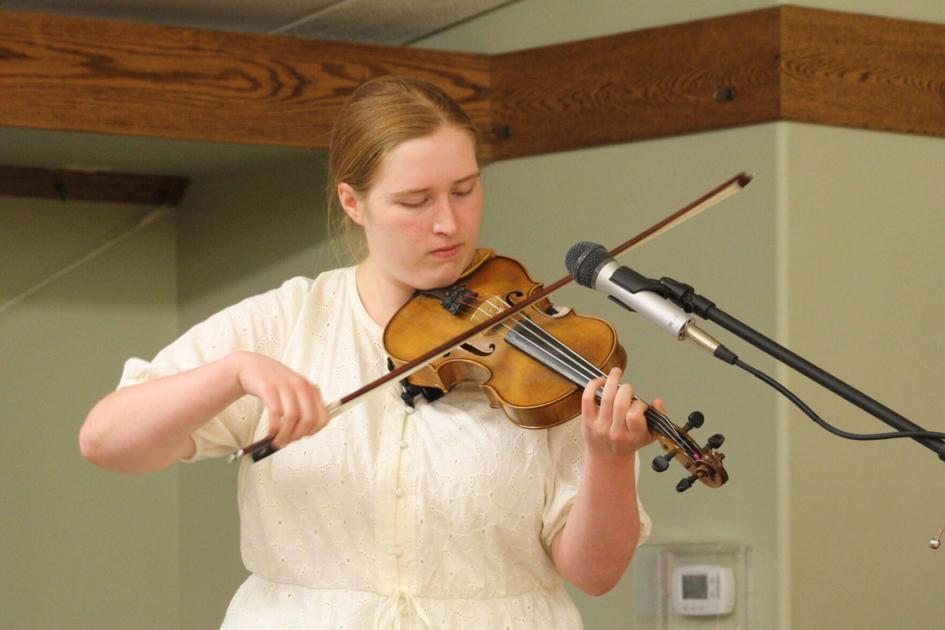 Métis families come together to renew friendships and celebrate their culture | New
Mitchif Heritage Keepers art and music festival in Choteau July 30-August. 1 brought together Métis who had not visited since 2019 for hugs and tears, Indian tacos and banique, old-fashioned violin music and memorabilia celebrating the history and culture of this people separate.
Fred "Jiggs" Charette of Billings, one of the organizers and board member of Mitchif Heritage Keepers, said the event was particularly enjoyable as the Métis people were unable to meet in 2020 due to the COVID-19 pandemic.
"Anytime we can all get together it's a success," he said. "We haven't seen each other for so long.
The three-day event at the Pavillon du Choteau included concessions including traditional entrees, Mitchif language lessons, a senior panel, jam sessions for violin and guitar players and singers, an auction , an old-fashioned violin competition, a presentation by Choteau Métis Elder Al Wiseman on historical tools and a Sunday worship service as well as numerous tours. reconnect and remember.
Charette said the cooks were short of everything on Saturday night when the old-fashioned violin competition and auction drew members of the Choteau community to join the Mitchif families from all over who came to enjoy the fraternity. Charette said that a cousin of hers who lives in Delaware came for the rally and was probably the person who traveled the farthest. Others came from all over Montana and Washington and North Dakota.
Charette said the Heritage Guardians have reserved the Choteau pavilion for the gathering for the next three years. The dates in 2022 are June 3-5.
He said another gathering of the Mitchif people would be held on Labor Day weekend in Lewistown.
One of the new events this year was the Seniors Panel, which included Charette, Wiseman, Jay Houle, Johnny Gladue, Julie Moran and Carol Moran. The elders spoke about their childhood memories and their childhood. Some of them, like Charette, were sent to boarding schools run by white people. "Difficult, difficult memories," said Charette, recalling the children who died in these residential schools.
Wiseman, 85, a retired carpenter who lives with his wife Elaine, in Choteau, gave an illustrated talk on the tools his people made and used for cooking, travel and entertainment.
He showed models of Red River carts, horse-drawn sleds and plows as well as stone crushers, hammers, birdcatchers and other items.
"I gathered a variety of things our people used years ago and lived with," Wiseman said, adding that the Métis were content with the resources they could access to create tools.
The first item he showed to the audience was a willow branch hoop with ponytail hairs threaded back and forth. When he was 6 or 7, a woman they all called grandma, would put the hoop on the ground and bait it with breadcrumbs, then he would help her catch swallows that tangled their feet in it. hair and could not fly off. She then cooked and ate the little birds.
Wiseman said that on some days those little birds were probably all she had to eat. As a child he didn't think much about it, but as an adult, he said, it was meaningful and important that he could help her.
He demonstrated a simple braided wick that sits in a metal pot and provides the light of a candle. He said women worked very hard in the old days and had callused hands that they could use to pinch lights out of the wick without getting burned.
He also showed a handmade knife recovered from Hill 57, where Métis and Little Shell peoples gathered outside of Great Falls, and demonstrated how a piece of slate and a stick could be used to call the wild turkey.
Wiseman said he was also doing an illustrated lecture for children, showing the toys Métis children created and played with.
He also explained how the cabins were built and the clay used to split the logs, how the Red River carts were built and the meaning of the colors of the belts worn by the Mitchif.
Wiseman concluded his speech by showing a violin that bellowed to his great-grandfather and that has been passed down from generation to generation. Wiseman said he didn't play the violin, but grew up with violin music. "Violin dances, that's what our people used to do," he said. "They didn't do a powwow, they were violin dancing people. Between that and the good faith in the Oord, right here, it is what allowed our people to get by.
He noted that the violin was strung with gut strings rather than steel strings, as gut strings could be repaired when they broke.
He said he once asked his mother, "Do you think that if the elderly had access to good quality instruments like they do today, do you think their music would have been better?" ? And Mother thought and said, 'Maybe and maybe not.' "
The violin competition, which took place on Saturday night, drew five registered competitors, who performed jigs, waltzes, two steps and hoes for the audience. Julie Moran Acheson of Cheyenne, North Dakota won the top prize of $ 400. Conrad's Cadhla Norris won $ 300 for the second, Helena's Sapphire Ferguson took $ 200 for the third, and Belt's Fred Burrows won $ 100 for the fourth. Ferguson and Burrows were also awarded $ 50 each to be the youngest and oldest of the fiddlers, respectively.
Kathy Moran, who taught the language classes, said she thought the gathering was a wonderful family-oriented event. "It was wonderful," she said, adding that she had a good turnout in her classes and that people loved learning the words.
"They loved it, that they could pronounce the words correctly," she said. "They were making simple sentences. It was just a good time.