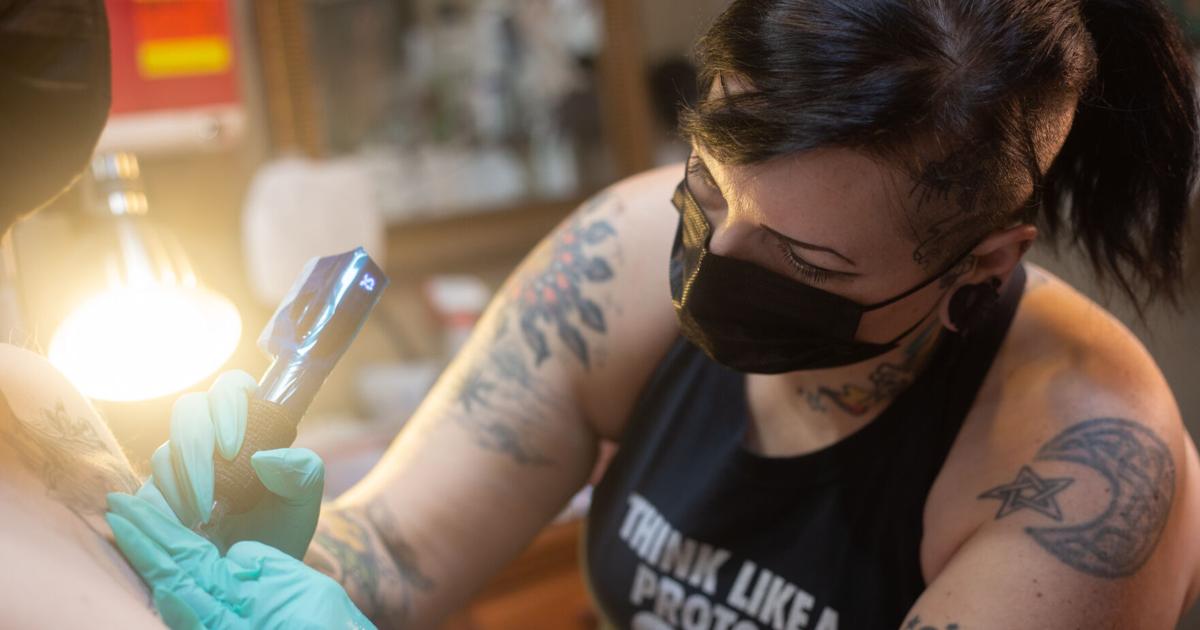 Local tattoo artists promote queer inclusivity in a safe environment | Arts + Culture
Lacy Zee was 6 years old when she decided her destiny was to be a tattoo artist. She got her first tattoo at 13. She is now 41 and an internationally renowned tattoo artist.
For hours, she sat next to her family friend at the Randy Adams tattoo parlor in Arlington, Texas, as he tattooed her parents. She was intrigued by the roar of ink guns and the creativity allowed by tattooing.
Although she spent her entire childhood in a tattoo shop, she had never met a tattoo artist. This made her skeptical.
At 6, she asked, "Can girls be tattoo artists too?"
Now she knows the answer. Zee, who works for Blaque Owl of Missoula, said that since she entered the tattoo industry in 1999, there have been a lot of advancements in inclusivity.
"Now there are openly queer tattoo artists – there are openly trans tattoo artists. You didn't really see them back then – they were [in] the industry – but you didn't really see them being openly themselves," Zee said. "With such a male dominated industry, it's not something I expected to see anytime soon, let alone this much and they are so welcomed in the tattoo industry."
Missoula tattoo shops have embraced and promoted open inclusivity for gay customers. Witch of the Woods Tattoo, an all-female, non-binary shop, is the first of its kind in Missoula. Blaque Owl Tattoo has two female artists and Zee, who identifies as pansexual. Bound by Glory also has two female artists and one artist, Sally Joe, who identifies as pansexual.
Kaden Elliot, one of Zee's clients, said Zee provides a non-judgmental, collaborative and warm environment to get tattooed. Elliot is transgender and Zee tattooed him throughout his transition.
"Being transgender is like a small facet of being a human being, and people put so much emphasis on it and it's like no – it's not even a big thing," Elliot said. "It was good there was never even a discussion, I was just me."
Elliot said he felt seen and listened to by Zee during his tattoo sessions. He went to other artists and had problems with them. His early tattoos have now been covered up as he was unhappy with the final products. He felt artists weren't listening to him – until he met Zee.
Grant Lane, a UM communications junior, also had a positive experience with Zee. Lane wanted a "Born this Way" unicorn tattoo on their thigh to honor Lady Gaga. They told Zee their idea and they collaborated until Lane was happy with the tattoo. When Lane picked it up, Gaga's new album had just been released; Zee blasted the album all over the shop and they listened to it cover to cover. They finished the tattoo at the end of the last song.
"I guess getting tattooed by another queer person, there's this familiarity, I feel comfortable, and I feel like we have a sense of understanding," Lane said. "I don't think if I went to a straight tattoo artist and said, 'I want to have a unicorn on my thigh,' he would be as excited as Lacy."
Terran Kimball, a wildlife biology student at UM, said he's heard stories of artists ignoring customer wishes. He said he was worried someone would convince him to settle for a tattoo that wasn't exactly what he wanted.
Even with this fear, he went to a local artist, Joe of Bound by Glory, to get a tattoo. Joe has been tattooing for two and a half years now.
Kimball said that prior to his appointment he practiced defending himself. When he arrived, he sat down with Joe, and they went through a careful process to make sure the tattoo was exactly what he wanted. She edited the tattoo and he said it looked like a collaboration. He said she then walked him through the tattoo process and answered his questions.
Joe, 23, is part of the young tattooed scene. She grew up in Hornsdale, Pennsylvania and, unlike Zee, wasn't surrounded by tattoos. Her hometown had only one tattoo shop, which she sneaked into as a teenager. Three years later, she began her apprenticeship. Today, she is a full-time tattoo artist. Similar to Zee, she believes queer people should be treated the same as their cisgender counterparts.
"I make sure to respect their pronouns, but other than that, I try not to make it a different experience for them than [for] someone else," Joe said.
Julia Tonne, a communications graduate student at UM, has 12 tattoos, most of them by a variety of different artists — one of them being Joe. Tonne said she had negative experiences at tattoo shops, but learned to stand up for herself and defend herself because of them.
"You shouldn't let other people or artists or your grandmother influence you on what you want to achieve, because it will be yours forever," Tonne said. "So trust yourself when you go to get a tattoo, and you're allowed out if you walk in and an artist draws something and you don't like it or are disrespectful; you can leave.