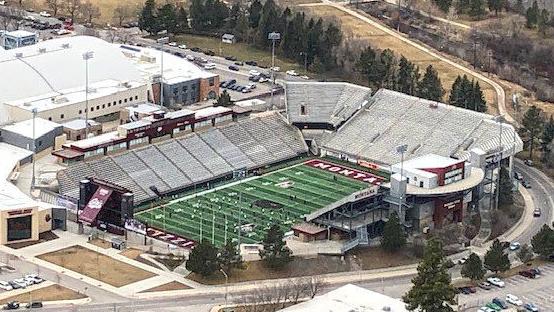 Jeff Welsch: Whichever tribe prevails in the COVID-19 Cultural War revival, we'll all lose this fall | 406mtsports
BOZEMAN – Almost unbelievably, after an almost normal summer and sunny outlook for fall sports, suddenly it's déjà vu with COVID-19 and hard not to see a toll day ahead.
Nice work, America.
On the one hand, we have professional and college athletic programs feverishly planning for business as usual (before COVID), their PR machines touting full stadiums, pre-game parties, and pageantry that we missed so much in 2020.
On the other hand, we have the dawn of the delta variant, spreading like wildfire through a thirsty patch of woods, sage and tall grasses, its voracious appetite setting pandemic records of virus and disease cases. hospitalizations in the most COVID-rider corners of the country.
It turns out that the more feverish and riders tend to inhabit the same landscapes, presaging a fall collision between man and the virus that seemed unfathomable just a few weeks ago.
Turns out Darwin has warmed up in the bullpen from the start and now he's ready to mop.
Barring an unlikely 11th hour epiphany from the Tribe of the Unvaccinated, we'll soon be left with two choices:
• Shut down as we did in March 2020, surely saving lives, but also fueling more divisions, sending more of us into despair and depression, and bogging down college athletic programs deeper in red ink .
• Go forward with full stadiums, unaware that tens of thousands – perhaps more – of our friends, neighbors and family members will fall seriously ill and / or perish needlessly.
Here's the problem: Either way, COVID wins.
Not the Liberals in the first scenario, although they probably sigh in relief behind their masks. Not the Conservatives in this latter scenario, although they will surely trumpet their hard-won "freedom".
We all lose.
And it shouldn't be like that.
We had COVID on the ropes, with each vaccination bringing us one step closer to a TKO and a complete return to normalcy that abruptly vanished in March 2020.
But in our haste, we either forgot COVID, declared victory prematurely, or with unrepentant pride invited its return – all amid scattered government advice that only exacerbates confusion for the uncertain.
I admit COVID The Sequel sneaked up on me.
On Saturday, before taking my grandchildren to the incredibly busy Bozeman Airport, I rushed to find a mask so I could get into one of the few places that still needed face coverings. I had hardly had a mask left since my second Pfizer jab in mid-April, and I haven't given the virus much more than a thought until the past two weeks.
For three months, COVID has been like a distant war or a natural disaster, affecting me only to the extent that I have allowed it on my TV or computer screen. After 13 months where every little cough, pain or tightness was surely a harbinger of my own COVID experience, the change overnight was a bliss.
What an irony.
While anti-vaccines tout "freedom," for me vaccination has been refreshing and liberating.
It was as if, two weeks after the second jab, someone had flipped a switch and it was again in January 2020.
So yes, my mind is mind-boggling at the stubborn resistance to vax creating unnecessary pain and death – suffering destined to multiply in crowded football stadiums, sports bars and post-game parties.
However, there is no point in lecturing or intimidating anti-vaccines here.
If the pleas of Mitch McConnell, the governors of Louisiana, Alabama and Arkansas, and the talking heads of Fox do not resonate, then members of the MSSM (MainStream Sports Media) have no hope.
It seems persuasion only comes with painful personal experience – think about the litany of rips "I wish I had the vaccine!" Deathbed confessions – and yet, although the result has been an increase in immunization, heart changes are still an astounding outlier.
And so, after more than a year where doctors, nurses, scientists, first responders, and politicians who viewed COVID as a serious threat have pushed their way through mandatory lockdowns, masks, and social distancing, now to turn back the clock those who see the virus as overkill and a symbol of overcoming are determined to impose their will on the country and are content to let Darwin do what he wants.
We are already seeing the first evidence of the cluster to come.
Athletes threaten to walk because they are forced to be vaccinated, so it is no exaggeration to imagine other athletes walking if they are forced to play with the unvaccinated. The packages, empty stadiums in the style of the Tokyo Olympics and other spinoffs that we cannot yet comprehend are becoming more certain by the day.
Hawaii has already set back its high school seasons by one month and will require vaccinations.
And it shouldn't be like that.
We could – and still can, even in this eleventh hour – avoided the coming collision with a simple community gesture that all credible science shows to be safe, effective, and, like an ironic byproduct, liberating.
Oh, I guess we could limit athletic access to those who prove they are vaccinated. No shirt, no shoes, no vax… no service. But can you imagine dealing with the inevitable chaos on a football Saturday in Tuscaloosa, Columbus or College Station?
Instead, it looks like we're destined to either shut down again en route to one type of huge pain, or continue our business as usual while insuring another.
Either way, COVID wins.
You would think we would like to avoid this outcome like the plague.