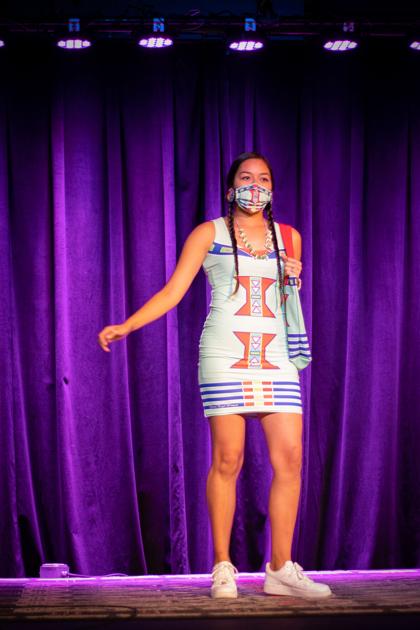 Indigenous community of Missoula shows off their heritage at 'ZACC' fashion show | Arts + Culture
Each model exuded beauty and grace as they launched their sharpest looks and strongest catwalk while strutting Indigenous designs on the Zootown arts community stage on Saturday afternoon. The fashion show was part of a two-day event to raise awareness in the indigenous community of Missoula.
The event, titled "Montana Resilience, Indigenous Art Exhibit," showcased art, music, fashion and education centered around Montana's tribal nations. The event was created to promote advocacy and foster connections between the indigenous community of Missoula and across the state.
Lauren Small Rodriguez organized the event. Small Rodriguez, born and raised on the Northern Cheyenne Reservation and part of the Chicana community, is a UM graduate student studying public health. She is also the Program Director for Native Action, a nonprofit program run by Aboriginal people.
"Art is a healing aspect for me. It stems from trauma and heartache, but I knew I was not alone and that the majority of us indigenous tribesmen suffered similar losses, "she said.
Small Rodriguez began advocating for Indigenous art eight years ago when her grandmother, who raised her and acted like her mother, passed away. She said Indigenous art healed her broken heart, which prompted her to want to spread her healing qualities across Montana.
"We want to celebrate our lifestyles, from our perspective. I want to hear that we have to lead, we have to have spaces like this, "Small Rodriguez said. "Only we, as Indigenous people, are able to tell our story and share our culture and beauty; give us that opportunity, that's what I would like to have.
Yolanda GoodVoice designed the pieces on display at Saturday's fashion show. GoodVoice is the president and owner of Sweet Sage Woman, and Apsaalooké, a citizen of the Crow Tribe of the Crow Nation. She exhibited items from her craft business that works to promote Native Americans.
"I really like this community and I really like connecting with other artists. And I really appreciate that the ZAC was able to do it. It brought us all together, "said GoodVoice.
Although GoodVoice lived in Missoula for many years and attended UM to earn her bachelor's and master's degrees in business, she is not from here. That doesn't mean she isn't home, she said.
"I am really happy to live here. There is nothing like the magic of Missoula, "GoodVoice said. "As Ravens we are quite far away, but as Indigenous people we will always have a connection to our homelands."
GoodVoice said she hopes this event will show people that they are not alone.
"The general public does not understand that we are still here. We still live, speak our language and practice our culture while living and paying our bills and having jobs, "said GoodVoice. "You see us everywhere, you don't think you do."
One of the models at the event, Millie Bearleggins, is a senior UM student studying pre-medicine and biology. She is a member of the Pikunii tribe and initially came to the event as a spectator, but was asked to be a model at the last minute. She ended up having a good time.
"They asked me and I was a little nervous, but we were very lucky that what I was wearing today matched the outfit I modeled. It's great to support my community and Yolanda the creative, "said Bearleggins.
Dr Brad Hall, a member of the Blackfeet Nation and tribal outreach specialist in the office of the president of UM, said he came to support the event on behalf of the University and himself personally.
"One of the things I believe in is student-led events. This is a really important question and I have a strong appreciation for the art, "said Hall.
At UM, Hall works as a UM Tribal Outreach Specialist to support students from tribal communities. Hall wants to provide a space where they can flourish.
"This event is about visibility and exposure, but an event on our own terms as Indigenous people," Hall said.