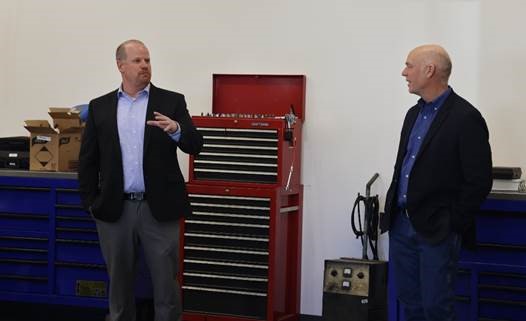 Governor Gianforte Promotes Vocational and Technical Education at New Center at Red Lodge High School

Governor's Office
RED LODGE, Mt. – In the grand opening of a new Career and Technical Education (CTE) Center at Red Lodge High School, Governor Greg Gianforte today emphasized the importance of CTE programs in empowering students and workers as well as to meet current and future labor demands.
"Everyone wins when we provide our children with the tools they need to thrive, and that's why I'm so encouraged to see this investment in Montana's most important resource: our children," said said Governor Gianforte. "Many new high-paying jobs require specialized skills, and CTE programs like the one here at Red Lodge equip our future workforce with these in-demand skills."
Governor Gianforte and John Fitzgerald, Superintendent of Red Lodge Schools, tour the high school's new CTE Center
CTE programs equip students with the applied skills needed to transition from learning in the classroom to thriving in the workplace. By providing in-demand skills, CTE programs develop Montana's workforce, empower students, and create greater opportunities for more Montanans.
Ensuring students have access to the best possible education to prepare them for the future and promoting trades education to empower Montana workers are key pillars of the governor's Montana Comeback Plan.
###
---
Keywords: