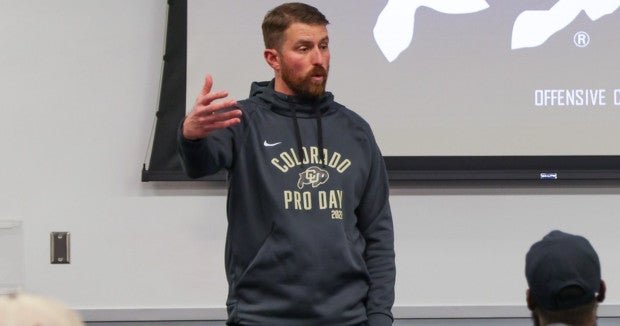 Everything Mike Sanford said during his spring speech to the media
Mike Sanford"First of all, it's about as much fun as I've had coaching football for a while. It's an extremely hungry group and that's been really fun. You see a group that is completely on board with the vision that Coach (Karl) Dorrell has for this program, the vision that Coach Dorrell and I have for this offense, and they're excited to learn different ways of doing things, new ways of doing things.
"And for me as a coach, I'm just having fun because this coaching staff offers a variety of experiences, a variety of systematic approaches and we had a lot of fun putting them together. 'a way where everyone has skin in the game. It's been really fun. It's a really unified offensive group right now, which is exciting.
"Now, talent-wise, I'm going to start at quarterback. I'm really happy with the way 'B-Lew' is playing. Brendon Lewis is playing at a really high level right now. He's operating what I would call a complex system, and he does it well. He spends more time, he supports the offense and he makes really good quick decisions, which was clearly a growth area for him at the end of the 2021 season.
"And I'm really excited about JT (Shrout). JT took the lion's share of reps 7-on-7. Today we did something a little different in 7-on-7. We made it, took So , if you finished a ball over five yards or converted a third when it appeared you stayed in the field so I wanted to see if anyone could get a hot hand and stay in the field for 15 minutes straight. It was fun. B-Lew took it for a while, JT took it for a while. So I'm really excited about that."
"The big area where we have to keep growing is the next quarterback. It's fierce competition right now. I think Drew Carter, Maddox Kopp and James Mott, those three guys are really fighting for that. And every day it's nice of a new person. So now (with Shrout not yet cleared for full contact) that's our number 2. We have to keep improving by leading the second offense. mash unit right now with the second offense. You have starting offensive linemen in there with both of them doing double reps. So it's not easy. But thanks to all those reps, I think we are improving a lot. We just have to bring someone out of this group.
"Really happy with Brady Russell. He likes what we're doing. He's gotten into it. He likes the physicality. He likes the involvement of the tight end, the multiplicity of attack that we can use. is such a smart guy, and a leader in the field.
"And then the area that I'm really, really, really happy about was receiver growth. That was a big question mark with everything that happened in the offseason. Today I got looked and you see Maurice (Bell) and Daniel (Arias) and Montana (Lemonious-Craig) and RJ Sneed, Chase Penry… I looked after a big play and thought, "We've got a big group here And they're coached. They're coached by two of the best in coach (Phil) McGeoghan, which he brings to the table. I've seen the development. And then also with coach Dorrell, just the advice that these two can offer I don't think there's a better combination of receiving training out there I've been around for a while Having a head coach and a positional coach who are legitimate NFL receiver developers and coaches.
"The run back was thin, but there was a lot of progress. Deion (Smith) had a really good camp. Jayle (Stacks) is a bit of a jack-of-all-trades at the moment; Swiss Army Knife, playing a lot of roles for us and doing a really good job with him. And Charlie Offerdahl, this guy is still making plays. So I'm excited about his growth and development. And then we'll have Alex Fontenot and obviously the transfer portal will bring another one as well We are thrilled with this group.
"Offensive line, through the first five/six bodies, really, really good. After that, we have guys playing through all kinds of cuts and bruises, guys who should be in their senior year of high school playing over there coming of age college reps, and they're growing Coach (Kyle) DeVan has been amazing for those guys in such a short time Their confidence, you see the way they carry themselves on the field, it's is a different group.