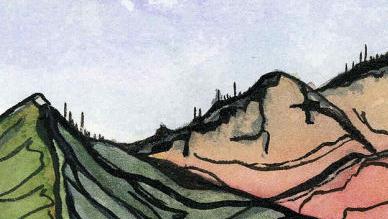 Enjoy Cultural Exploration in Downtown Hamilton on Saturday October 9 | Local News
Montana Bliss Artworks, located at 101 S. 7th St in Hamilton, will present a group exhibition of Montana Plein Air artists who have used the season to paint the great outdoors of Montana. The show entitled "Let's Go Plein Air" opens with the artists during Culture Crawl. Meet the artists and enjoy their many styles of presentation while discovering our stunning Montana landscapes. Plein Air artists include Amanda K. Bielby, Sheri Nagi, Gail Trenfield, Katrina Ruhmland, Sheryl Silberman, Dot Harris, Courtney Neuschwander, Sally Friou, Janet Sullivan, Rebecca Fiske and Kaley M. Peterson-Burke. Also, Arthur Kostuk will be back at the piano with music of the season from 12:30 p.m. to 3 p.m. at Gallery Too.
Barbara Liss' Concrete Sculpting Studio, located at 101 S. 7th St. in Hamilton, has a special artistic experience in the works. It is a play designed and created by Barbara Liss and her intern Emily Ziegler. The sculpture is nine feet long and one has to be seen to appreciate the collaborative effort of these two artists. Don't miss this overview of their progress.
ClayWorks! In the Bitterroot, located at 325 Main Street in Hamilton, presents "Empty Bowls," a popular movement of artists and artisans in towns and cities around the world to care for and feed the hungry in their communities. ClayWorks! In Bitterroot, local businesses are sponsoring the Lunch of Soup and Bread in Empty Bowls on Saturday, November 13. Participants can choose a handmade pottery bowl to remember anyone who is hungry. Profits from the event will be used to support local projects.