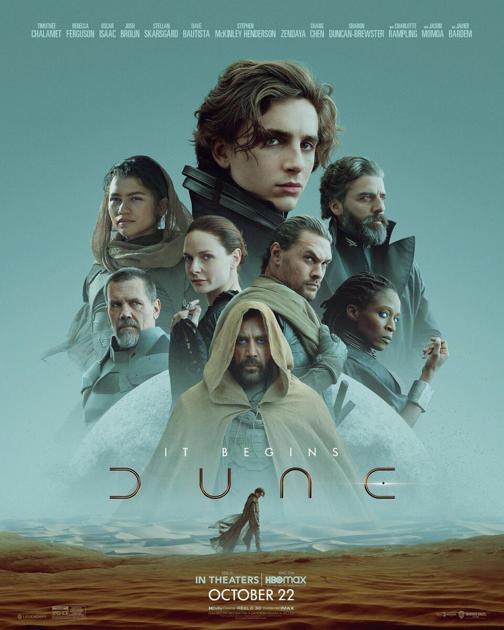 'Dune' is Star Wars for Movie Fans and Chala Maniacs | Arts + Culture
Star Wars has a lot to offer: lightsabers, blasters, incompetent Nazi executors, an asthmatic evil goth, incestuous love triangles and, of course, star wars.
But do you know what Star Wars doesn't have? Stone-faced snack-faced Timothée Chalamet in tall boots and a black overcoat, barking orders in a Voice you just can't resist.
"Dune" (2021) has our beautiful boy and much more in its two and a half hour span. Not a single second is wasted on a journey to an ending that will likely leave some frustrated and craving more – and that's exactly where its creators want you.
If science fiction had a grandfather, it's "Dune". Frank Herbert's 1965 novel follows Paul Atreides, a brooding prince in a medieval galaxy who finds himself at the center of a battle for the future of Arrakis, a desert planet that serves as the sole source of the most precious substance of the galaxy, the spirit – an enhancing drug known as a "spice".
As Star Wars made box office gangbusters with its relatable story of a boy with magical powers embracing his fate as a savior of the galaxy, the original inspiration for the "Dune" franchise sat on the sidelines, assembling a legion devoted fans who patiently waited for a faithful film adaptation. Fortunately for them, "Dune" finally delivers, even if it only covers the first half of the story.
"Dune" is a huge number of films, and director Denis Villeneuve ("Arrival", "Blade Runner 2049 ") called on one of Hollywood's best to share the load. Rebecca Ferguson, Oscar Isaac, Josh Brolin , Jason Momoa and, yes, our Queen Zendaya join Chalamet in performances that are sure to turn heads this awards season. The real spice in this movie (pun intended) comes from Ferguson's striking take on Lady Jessica, Paul's devoted mother and member of a powerful order of witches with their own reasons for keeping Paul close.
The technical aspects of the film are sure bait for the Oscars. Cinematographer Greig Fraser ("Rogue One") wields the camera like a paintbrush, except each shot is a three story canvas. "Dune" is huge – spherical spaceships look like snowballs drifting through space, then land and eclipse mountains. Explosions tear cities apart in a ferocious sound mix that makes it seem like it could shatter the theater as well. All accompanied by the always reliable Hans Zimmer ("Interstellar"), who delivers a violent and furious score that many will find unforgettable – if only because it becomes a little repetitive.
"Dune" is a love letter to fans of its often dense and ruthless source material, sticking tightly to the source material in a way those same fans are likely to applaud. The biggest test will be for moviegoers who decide to walk through the breathtaking, slow-moving views of Arrakis because they know they will see Chalamet and Zendaya smooching. Hold on, though. Villeneuve leaves viewers with an unsatisfying ending and a warning in the title card that "Dune" is only the first part of a two-part tale.
The real question is whether "Dune" can reclaim his throne as the godfather of modern science fiction after decades of Star Wars raking the dough. With a stroke of luck, we can all return to Arrakis in a few years for the surely epic conclusion – and more of Chalamet whispering sweet words through his spice-fueled fever dreams.