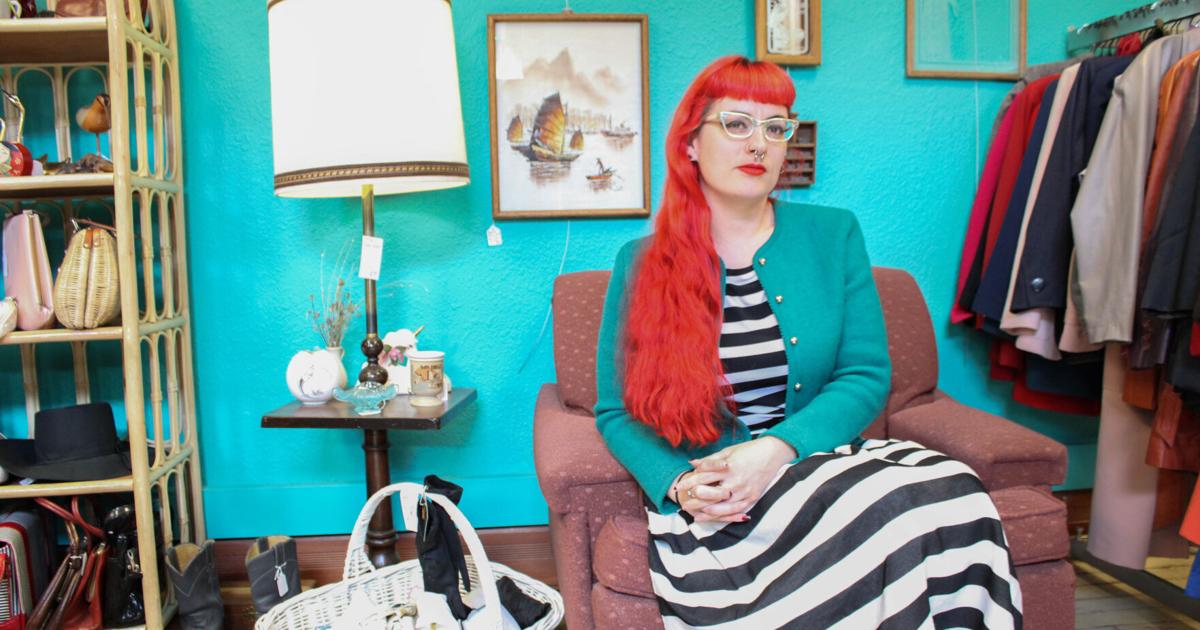 Becoming Betty Venom: Vibrant Burlesque Meets Vintage Fashion | Arts + Culture
Betty Venom came out from the back of the room, snapping her fingers to the beat of sultry music as her hips rocked back and forth. Her electric neon hair in the color of the Red Hots was perfectly curled and rested around her breasts.
Upstairs, a line of bodies waited to enter the warm, intimate basement of Stave and Hoop in downtown Missoula. Tonight's show? A burlesque show without a specific title, but patrons still delighted.
On the ground floor, the senses are exalted. The click of heels on cement was subtle but widespread. Venom moved her shoulders in seductive little circles, slowly loosening the laces of her bodice, teasing the audience. Venom twisted and arched her back, allowing her bedazzled nipples to pop out of her top. Hand-stuck red and silver gemstones shimmered in the light, drawing attention and applause as Venom shimmered, boobs bouncing. She emerged into the corner hallway almost completely naked, her first act over.
Venom is a burlesque dancer with The Cigarette Girls, "Montana's premier burlesque troupe", which performs in Missoula and throughout the state. The character of Betty Venom was created by Kayla Challinor, the non-performance name of Venom. However, she goes by Betty and Kayla indiscriminately in everyday life.
Graduating with a Bachelor of Fine Arts from the University of Montana in 2016, Venom loved the finds and looks from previous years before she started performing. Venom started selling her vintage items on eBay when she was still in school, before becoming part of The Cigarette Girls. Once she joined the troupe, selling items took a back seat.
"The Cigarette Girls were my first introduction to burlesque," ​​Venom said.
When people hear the word stripper, they probably imagine strip clubs and g-strings. When people hear the word burlesque, people most likely imagine the 2012 film "Burlesque" with Cher, the owner of a burlesque club in Los Angeles and Christina Aguilera, a newcomer from the Midwest who just wants to dance, finally finding each other to sing too. .
Venom believes that striptease and burlesque are "different sides of the same coin". Historically, striptease and burlesque performance have indeed intertwined and evolved in different ways. Burlesque has been around since the 1880s and has connections to comic and theatrical elements.
After years of performing with the troupe, the pandemic set in and burlesque shows were canceled. Venom once again turned his attention to selling his wares and founding his business, Betty V Vintage (the "V" for Venom).
In Venom's underground boutique in downtown Missoula, fur coats, vintage dresses and eclectic cowboy boots fill the space. "I've been collecting for over 10 years," Venom said.
Whether she works in her shop, performs statewide, or simply exists in Missoula, Venom's personality and character have followed her.
"[I'm] locally famous," Venom said. "I have this weird thing where I don't see anyone. I just know that people look at me all the time. i basically [put on] blinders.
The creation of Betty Venom began eight years ago, when Wilma's stage was filled with bodies ready for applause. It was Halloween, and that meant "The Rocky Horror Picture Show" in Missoula, with The Cigarette Girls opening the show.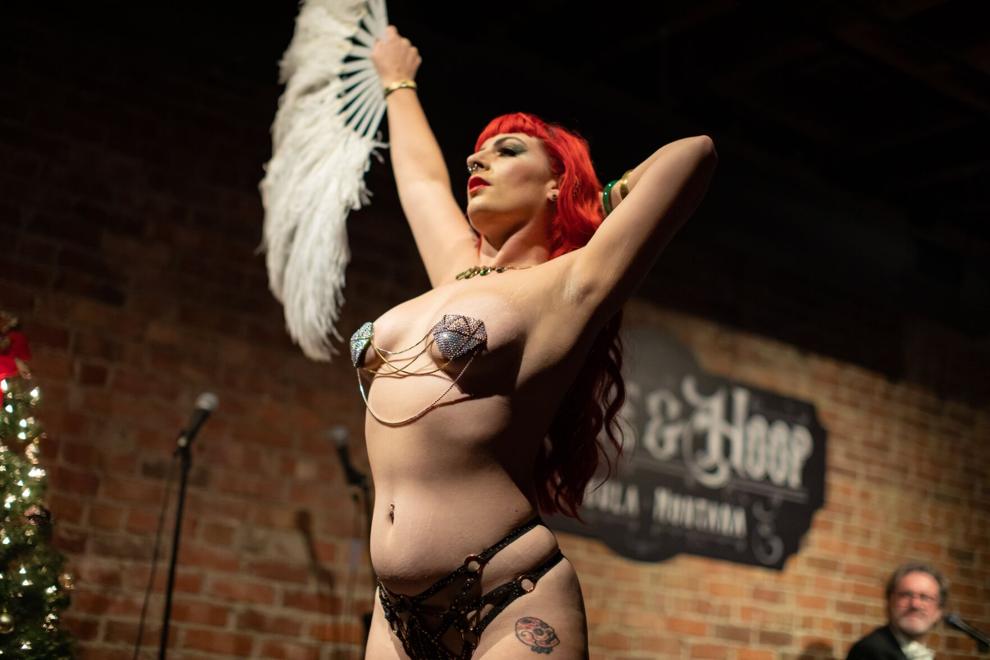 Reid Reimers has been the director, producer and star of the Rocky Horror Picture Show for years in Missoula. Originally cast in the first show at the Wilma in 2009, Reimers continually plays Frank N. Furter, a role that Tim Curry originated on stage and in film. The cult 1975 film adaptation continually has Rocky Horror fans screaming, "Time Warp," every October across the country at various events, and the Wilma is no exception.
"One of our main goals for Rocky, because the show is so popular, is to share the love as much as possible with other bands in town," Reimers said. "We try to be racy, not raunchy… [The Cigarette Girls] were a really natural response for us.
A younger, less confident Venom was terrified of performing for Rocky Horror fans. It would be her first time performing in front of a massive audience. But she had made her way to this – she was ready. Audiences loved her and Venom's burlesque career began.
Stella Pearl, the stage name of Meg Hansen, is another member of the burlesque troupe who has been with The Cigarette Girls since its inception in 2010. She knew Venom when she was a kitten – a cute name for a stagehand who picks up accessories and clothes. after a number – and over the years they have gone from acquaintances to friends. They both share a love for vintage clothing and fashion.
"It's really fun to have this outlet to play dress up," Pearl said of the burlesque performance. "The average middle-class American has no excuse to continue shopping for dresses throughout her life. It's fun to express that kind of creativity.
Betty Venom, Stella Pearl and the rest of the cast choreograph and design their own numbers. They are all in the process of revamping their show and hope to start local performances again soon. Reid Reimers hopes to have The Cigarette Girls opening Rocky in the fall of 2022.
While vintage fashion is Venom's thing and a deep love for her, her passion for burlesque is strong, she said.
"It's glamorous. It's seductive. It's showgirls.