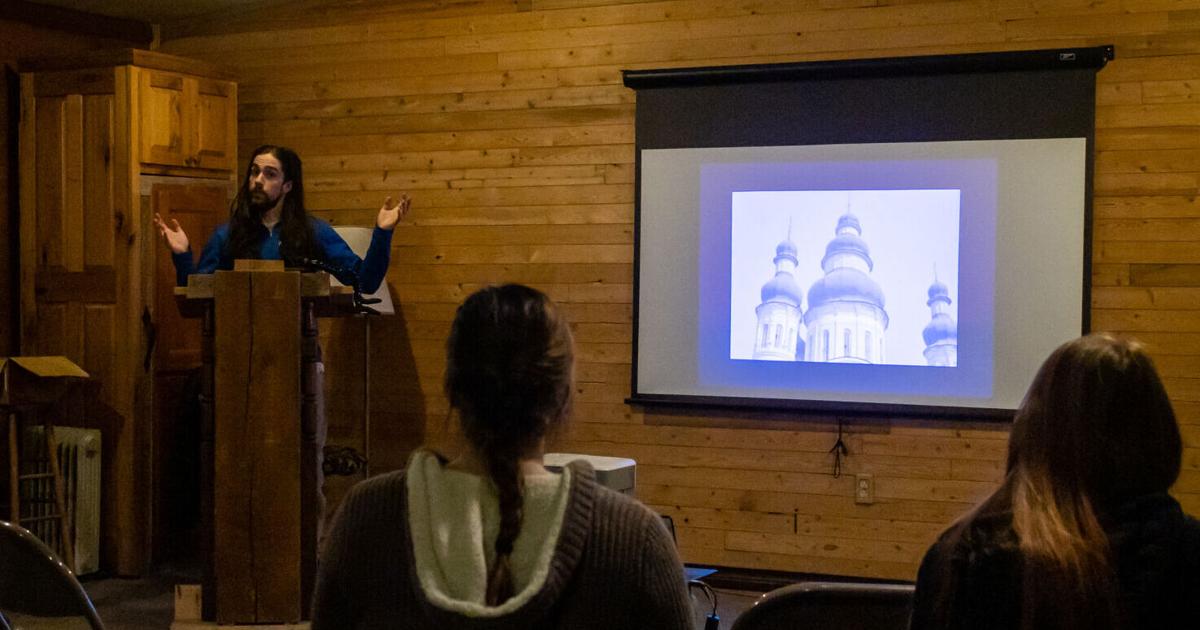 A series of films bring Ukrainian stories to the big screen | Arts + Culture
In 2015, Netflix released a documentary about the 2013 and 2014 unrest in Ukraine, when peaceful protests by students supporting European integration turned into a violent revolution calling for the resignation of President Viktor F. Yanukovych. Seven years later, "Winter on Fire" is one of many timely examples of Ukraine's relentless struggle for freedom.
"When bad things happen, you suddenly pay attention to something that wasn't part of your daily life," said Walter Stumbo, a University of Montana senior majoring in wildlife biology. "I think cinema is an outlet, a partial way to get perspective on what's going on in Ukraine as a country and as a culture."
Stumbo screened "Winter on Fire" at UM FLAT studio on March 8 as the first film in its Ukrainian film series and fundraiser. The event is a response to Russia's February 23 invasion of Ukraine, which is a nearly eight-year escalation of the ongoing Russian-Ukrainian war.
The series includes a total of four Ukrainian documentaries and narrative films, from cult classics to documentaries on the devastating impact of war. At each screening, attendees have the opportunity to donate to the Global Empowerment Mission, which provides refugees from Ukraine with essential supplies and resettlement support.
Other films include "Viy" by Georgiy Kropachyov, "The Earth is Blue Like Orange" by Iryna Tsilyk and "Homeward" by Nariman Aliev.
Stumbo said he received movie recommendations from Sophie Skripka, a UM faculty member who was born in Svitlovodsk, Ukraine, and moved to the United States when she was 7.
Skripka said when she first heard the news of Russia's invasion of Ukraine, she was devastated. While Skripka's immediate family lives in New York, much of her extended family still resides in Ukraine.
"The first day the war started, I felt super helpless for my family and the current situation," Skripka said.
Skripka said she was relatively new to Missoula and hadn't found many Ukrainians, Russians or other people of European descent to share her experience with. So she posted a message on the Missoula subreddit asking people if there was anyone in the area who wanted to meet. for support. Skripka received an overwhelming amount of responses, including a message from Stumbo. They met for lunch and discussed his movie recommendations.
One of the movies was "Viy," a Soviet-made 60s horror cult classic. Skripka remembers her parents watching her when she was a child. The horror film, based on the short story by Russian novelist Nikolai Gogol, follows a young Ukrainian seminary student who must fight a witch. She said she was too scared to watch the film as a child, but has come to appreciate the cult classic ever since.
While Skripka considers herself a movie buff, she said she has yet to see "Homeward" and "The Earth is Blue as Orange," which are movies she found online.
'The Earth Is Blue Like Orange', which won the 'World Cinema Documentary' Directing Award at the 2020 Sundance Film Festival, depicts a single mother and her children coping with life in a war zone. by making a movie.
"Homeward", a 2019 film about a father traveling with his son to transport the body of his deceased eldest son from kyiv to Crimea, is a fictionalized story, but like "The Earth is Blue as Orange" and "Winter's Fire", it highlights issues related to the unrest in Ukraine.
Skripka stressed the importance of providing outlets like the film series that allow the Missoula community to come together during times of hardship 一and she said films are not the only creative outlet for those under shock.
Over the past month, UM and the Missoula community have hosted Ukraine-based events, including a bake sale and a live speaker event at Imagination Brewing. Skripka said she also plans to host a virtual cooking class on March 23, in conjunction with United We Eat, a Missoula organization that provides refugee and immigrant families with a platform to share their food.
"Any outlet is good," Skripka said. "Depending on what resonates with people, people are curious about what's going on, and if you're a movie buff or a cook or an artist, that's how you learn."
Upcoming screenings of the Ukrainian film series include "Viy" on March 16, "The Earth is Blue Like an Orange" on March 30, and "Homeward" on April 6. All screenings start at 7 p.m. at the UM FLAT studio.